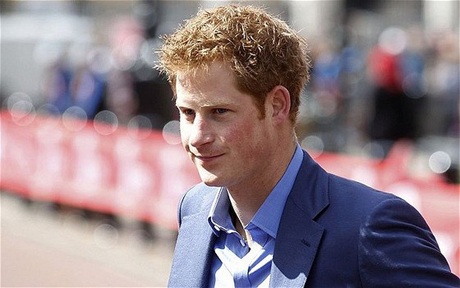 JournalismPakistan.com August 23, 2012
The British royal family on Wednesday warned the country's newspapers not to publish nude photographs of Prince Harry cavorting with friends on holiday in Las Vegas.
The photographs, published in the United States by celebrity news website TMZ.com, showed the third-in-line to the throne naked in a hotel suite.
In one of the two photographs, the 27-year-old is pictured, apparently wearing only a watch and a necklace, covering his genitals with his hands while another person, who also appears to be nude, stands close behind him.
In the other, he is bent over bear-hugging a second person, who also appears to be naked. It is not clear if the person is a man or a woman.
Clarence House confirmed to AFP on Wednesday that the images were genuine. "At this time we don't have a comment," a spokesman told AFP, adding: "We may do later."
It is rare for Clarence House to confirm the validity of such images, which raise questions about security surrounding the British royal.
A royal spokesman later confirmed the family had contacted the Press Complaints Commission to request that British newspapers did not print the images, arguing it would be a breach of privacy.
The two images were taken at a private suite in the Wynn Resort after a game of strip billiards last weekend, according to TMZ.
Newspapers on Thursday adhered to the palace's request, although The Sun's front-page carried a mock-up of the infamous photograph with a journalist taking Harry's role next to the headline "Harry grabs the crown jewels".
The Mirror had "Harry naked romp" splashed across its front page while the Daily Mail ran with "Palace fury at Harry naked photos" as its main headline.
A royal source told the UK's Press Association news agency that Harry had been "letting off steam before the next phase of his military career".
Video has also been released from the same trip that purports to show the prince racing US Olympic swimming gold medallist Ryan Lochte in the pool of a nightclub in the hotel.
Lochte, who was in Las Vegas belatedly celebrating his 28th birthday, told Britain's Daily Mail newspaper that he was "surprised" Harry had challenged him to the race, which the swimming star won.
"He's a great guy, and it was a huge honor to meet him," Lochte was quoted as saying, adding: "I definitely wasn't going to take it easy on him!"
It is not the first time Harry has taken on one of the world's top sportsmen - during a Caribbean tour in March, he managed to beat the world's fastest man Usain Bolt in a joke race.
Harry was in Las Vegas after hosting a charity event in San Diego.
Known for his playboy reputation, the prince has tried to distance himself from that lifestyle.
He caused outrage in 2005 when photographs of him attending a fancy-dress party wearing a swastika armband appeared in the press, and was forced to apologize in 2009 when video footage emerged of him calling an Asian colleague "our little Paki friend".
The prince has also been pictured scuffling with a photographer and admitted to drinking under-age and smoking cannabis aged 17, but has recently presented a more grown-up image and stood in for the queen at the Olympics closing ceremony.
A trained army helicopter pilot, he has expressed a strong interest in returning to serve in Afghanistan. His first stint there had to be cut short in 2008 when a media blackout was breached.
It is not the first time British royalty has been embarrassed by leaked photographs with a topless picture of the Countess of Wessex, taken before she married Prince Edward, hitting the papers in 1999.
Sarah, Duchess of York, was also pictured having her feet kissed by US businessman John Bryan shortly after separating from her husband the Duke of York. - AFP