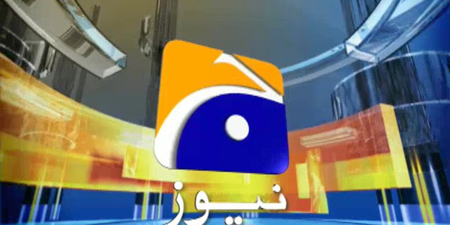 JournalismPakistan.com April 30, 2017


ISLAMABAD – Pakistan Electronic Media Regulatory Authority (PEMRA) is to take action against Geo News after receiving a letter with a 'threatening tone' from an executive at the channel.
The letter was in response to a PEMRA prohibition order that barred Geo from airing a terrorist's interview in its program Jirga.
The April 27 order came hours before Geo was set to run the interview of Ehsan Ullah Ehsan, a former spokesman for the banned Tehreek-e-Taliban Pakistan (TTP).
PEMRA said it received the letter, addressed to its chairman, through WhatsApp.
"Executive Director of M/s. Independent Media Corporation has used highly inappropriate language, with a threatening tone quoting unnamed lawyers and casting aspersions against a state institution," the regulator said.
PEMRA said it would take appropriate action after consulting its legal department.
"The Authority has prohibited the airing of any terrorist's interview by any TV channel including Geo News except the confessional statement issued to the ISPR," PEMRA said.
The regulator made it clear that "under Section 30A, only a High Court has the first right of appeal against PEMRA's decision. In the absence of any intervening order by any High Court, the violation of PEMRA order would be illegal. PEMRA is determined to establish its writ. Any violation of PEMRA's lawful order shall be taken as willfully considered defiance and shall be dealt in accordance with law."