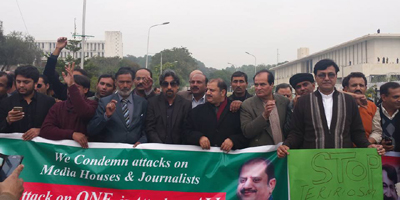 JournalismPakistan.com December 08, 2015


ISLAMABAD: Islamabad and Rawalpindi based journalists staged a sit-in Tuesday in front of Parliament House to press the government to provide security to all media houses.
The five-hour sit-in was organized by Pakistan Federal Union of Journalists and National Press Club. A large number of journalists chanted slogans demanding security. Information Minister Pervaiz Rasheed assured the protesters that news organizations, press clubs and unions of journalists would be provided fool-proof security.
He said soon a meeting comprising representatives of PFUJ, All Pakistan Newspapers Society (APNS) and Pakistan Broadcasters Association (PBA) will be convened to decide on the security measures.
There has been a significant increase in attacks on media houses, the latest being a grenade attack on Express News bureau office in Sargodha that wounded a security guard Monday.
A similar attack on Din News Television office in Lahore on December 1 injured two policemen and an employee. Earlier in November, a grenade was hurled at Dunya News office in Faisalabad that injured three employees.
At Tuesday's protest Opposition Leader in National Assembly, Khursheed Shah, former Information Minister Qamar Zaman Qaira, and former Chief Minister of Balochistan Nawab Ghous Baksh made appearances to express solidarity with journalists.
President PFUJ Afzal Butt said that journalists were not safe anywhere. "Previously journalists were targeted on streets, now they are being attacked in their offices."
He lamented that had the killers of journalists been punished, the situation we face today would have been much different.
In the past 10 years 118 journalists and media workers have been killed in Pakistan, secretary of Rawalpindi-Islamabad Union of Journalists Bilal Dar said. "Despite this we couldn't be stopped from writing and reporting the truth."
Meanwhile, protests were also held in Lahore and Karachi where union leaders made speeches and called on the government to take immediate steps to prevent attacks on media, punish the perpetrators and ensure security to news orgaizations.