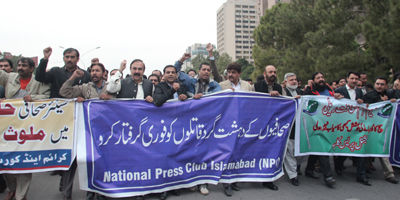 JournalismPakistan.com November 28, 2012
ISLAMABAD: Journalists based in Islamabad and Rawalpindi held a rally Wednesday to mark the Commitment to Journalism Day, announced by the National Press Club.

At the heart of the rally was Geo TV anchor Hamid Mir who survived an assassination attempt Monday (November 26), claimed by the Taliban.

Addressing a 100-plus gathering, he said he would not be deterred by such cowardly acts and would continue to call a spade a spade.

Explosives were found planted on Mir's car after he returned from a market near his home.

Press Club's President Farooq Faisal Khan and Secretary General Sheharyar Khan were among the rally as was Pervez Shaukat, the head of Pakistan Federal Union of Journalists (PFUJ).

The leaders called on the government to arrest those who have killed journalists and also the terrorists involved in attempting to kill Mir.