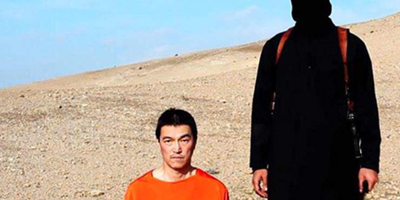 JournalismPakistan.com February 01, 2015
TOKYO: Japan and other nations condemned with outrage and horror on Sunday the beheading purportedly by the Islamic State group of Kenji Goto, a journalist who sought through his coverage of Syria to convey the plight of refugees, children and other victims of war.
The failure to save Goto raised fears for the life of a Jordanian fighter pilot also held hostage by the extremists. Unlike earlier messages, an online video purporting to show an Islamic State group militant beheading Goto, circulated via social media late Saturday by militant sympathizers, did not mention the pilot.
Goto's slaying shocked this country, which up to now had not become directly embroiled in the fight against the militants.
"I feel indignation over this immoral and heinous act of terrorism," Prime Minister Shinzo Abe told reporters after convening an emergency Cabinet meeting.
"When I think of the grief of his family, I am left speechless," he said. "The government has been doing its utmost in responding to win his release, and we are filled with deep regret."
In light of threats from the Islamic State group, the government ordered heightened security at airports and at Japanese facilities overseas, such as embassies and schools, government spokesman Yoshihide Suga said.
He said it would be "inappropriate" to comment on the status of the Jordanian pilot, Muath al-Kaseasbeh. He was captured in December when his F-16 crashed near the de facto capital of the Islamic State group, which controls about a third of both Syria and neighboring Iraq in a self-declared caliphate.
Goto, 47, was a freelance journalist and father who braved hardship and peril to convey the suffering caused by conflict and poverty.
"Kenji has died, and my heart is broken. Facing such a tragic death, I'm just speechless," Goto's mother Junko Ishido told reporters.
"I was hoping Kenji might be able to come home," said Goto's brother, Junichi Goto, in a separate interview. "I was hoping he would return and thank everyone for his rescue, but that's impossible, and I'm bitterly disappointed."
Japanese expressed shock and horror over Goto's killing.
Yukawa's father, Shoichi, said Goto was trying to rescue his son "only to suffer the worst possible outcome."
According to his friends and family, Goto traveled to Syria in late October to try to save another hostage, Haruna Yukawa, who was captured by the Islamic State group in August and shown as purportedly killed in an earlier video.
The White House released a statement in which President Barack Obama also condemned "the heinous murder" and praised Goto's reporting, saying he "courageously sought to convey the plight of the Syrian people to the outside world."
The White House said that while it isn't confirming the authenticity of the video itself, it has confirmed that Goto has been slain. - AP