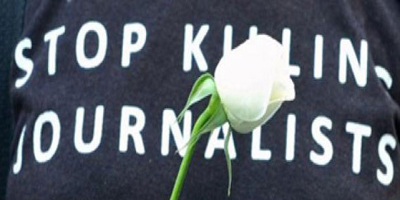 JournalismPakistan.com March 05, 2013
The International Federation of Journalists (IFJ) is appalled by the death of three Pakistani journalists in the space of a week and has called on authorities to thoroughly investigate the cases to ensure the perpetrators are brought to justice.
On March 1, Mehmood Ahmed Afridi, a correspondent for the newspaper Intikhab, was killed by gunmen travelling by motorcycle in Kalat, in the southwestern province of Balochistan.
Afridi, 56, had worked as a journalist since 1995 and was president of the Kalat Press Club. Colleagues said Afridi had been waiting outside a public telephone booth when two men on a motorcycle stopped and opened fire - he was shot four times.
On 27 February in Miranshah, North Waziristan, in the Federally Administered Tribal Areas (FATA), journalist Malik Mumtaz Khan, was on his way home when he was gunned down by armed men waiting in a vehicle with tinted windows. Khan had been a journalist for 15 years and had worked for Geo TV and the Jang newspaper group. He had also recently been elected president of the Miranshah Press Club.
On February 25 Khushnood Ali Shaikh, the chief reporter of the state-controlled Associated Press of Pakistan (APP) wire agency was killed in Karachi, in a hit-and-run accident.
Shaikh had been receiving threatening calls for some time that warned his child would be abducted and murdered if he did not pay Rs50,000 in extortion. Shaikh had informed his union, his employer and the police about the threats. He relocated to Islamabad and thought the threats had gone away. Returning to Karachi, the threats resumed. It's believed his death was no accident and that he was deliberately targeted.

"Increasingly, governments around the world are allowing killers to get away with murder because the targeted killing of journalists are not properly investigated," the IFJ said.
"Authorities cannot allow a culture of impunity to flourish. Journalists must be allowed to do their job of scrutinizing the powerful and holding them to account. Pakistan must demonstrate that it will investigate these crimes with vigor."
This week, the IFJ has sent an international delegation to Pakistan. The 5-member delegation is meeting union leaders, media persons, and civil society representatives from four provinces to assess the situation for journalists, in particular with regards to their safety and job security.

The delegation will be meeting media owners and government officials to impress upon them the importance of a safe and independent media and discuss ways in which the policy and legal environment can support press freedom and allow the media to fulfill their democratic function.