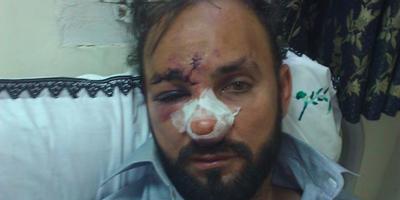 JournalismPakistan.com October 14, 2013
The International Federation of Journalists (IFJ) and partners in the South Asia Media Solidarity Network (SAMSN) are shocked and horrified by the latest instance of an attack with obvious lethal intent on a journalist in Abbottabad.
According to information received from the Pakistan Federal Union of Journalists (PFUJ), an IFJ affiliate and SAMSN partner, Sardar Shafiq (picture) who works with a local Urdu daily, was brutally attacked late night on October 10 as he left his office.
Khyber Pakhtunkhwa has become a hazardous territory for journalism in part because of the spillover effects of the conflict in Afghanistan.
Shafiq was reportedly intercepted by three men who began assaulting him with iron rods without any seeming warning. He was left critically injured and is under intensive care at the Abbottabad Medical College hospital.
PFUJ President Pervaiz Shaukat and Secretary General Amin Yousuf have condemned the attack and called on the provincial government of KP to investigate and arrest the culprits.
"We join the PFUJ and call that Shafiq's employer and the authorities in KP join hands to ensure that he gets the best possible medical treatment" said the IFJ Asia-Pacific.
"In light of the continuing evidence of the hazards that Pakistan's journalists face, we call on all parties with a stake in the issue – press and media unions, owners and the agencies of the government – to evolve a credible strategy to improve the safety situation".