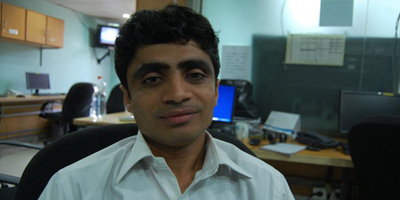 JournalismPakistan.com May 15, 2012
ISLAMABAD: The enigma has been there as long as the profession; does a good story make a journalist or does a journalist make a story good? Most probably the answer lies somewhere in between. One thing is for sure though, hard work does pay off.

Young reporter Zahid Gishkori of The Express Tribune did just that. He slogged away for more than three years at what he did best – writing, reporting, investigating, chasing down a story and all the nitty-gritty involved in doing so – with intermittent success.

Anybody with less resolve would have packed up and found something else to do but not Zahid. Indeed, he strengthened his resolve, persevered some more while all the time working to hone his skills further in his adopted profession.

And it has paid off in spades.

Zahid has been named for the Canadian High Commissioner's Award for Excellence in Pakistani Journalism in the Public Interest as the runner-up in the print media category.

According to the Canadian High Commissioner, the award is recognition of Zahid's report on the Airblue crash investigation which they cited as exemplifying the ideals of public interest reporting, demonstrating how the media serves as the 'fourth estate' of democracy.

What makes the nomination even more satisfying is that Zahid's report was selected by a panel of eminent Pakistani journalists from a highly competitive field of nominations. Zahid will be presented the award on May 17 at the National Press Club in Islamabad.

It's been a long haul for Zahid for whom journalism was not a first choice profession. Yet, he found it attractive enough to consider making it a career. "Back in 2007-2008 I did my CSS exam, but somehow found myself leaning towards journalism rather than civil service," he says.

Zahid was born in Gishkori Nashib, a small village on the banks of the Indus in district Layyah and it was here that he completed his early and intermediate education before going on to get his Masters in English Literature in 2004 from the Bahauddin Zakaria University, Multan.

A two-month internship at Dawn convinced Zahid he was indeed on the right track and he followed up this initiation into the world of journalism with stints at INP, PPI, Pakistan Observer and The Nation.

Zahid got his first opportunity to prove his mettle as a correspondent with PPI and also as a research and material support resource for senior correspondents.

He returned to the print media proper as a special correspondent for the Pakistan Observer Islamabad covering human rights, economic and political issues before being given the responsibility of reporting on parliamentary, foreign ministry and diplomatic activities.

In March 2010 Zahid joined The Express Tribune and has been there since with the responsibilities of covering special events, environment, parliament and senate.

"It's been an interesting time," he says, "One that has provided me with a very real perspective on events. It has also been a learning experience… and that is why this award means so much. My hard work has borne fruit."

That is a meaningful message for other young journalists and perfectly vindicates Zahid's good work ethics: You work hard, you get. You don't work hard and you don't.