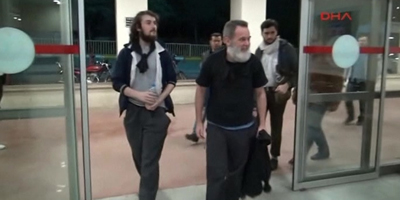 JournalismPakistan.com April 20, 2014
PARIS: Ten months after their capture in Syria, four French journalists crossed the border into neighboring Turkey and reached freedom Saturday, though dozens more remain held in the country's chaotic civil war.

Edouard Elias, Didier Francois, Nicolas Henin and Pierre Torres — all said to be in good health — were freed over the weekend in unclear circumstances in what has become the world's most dangerous, and deadliest, conflict for journalists.

"We are very happy to be free ... and it's very nice to see the sky, to be able to walk, to be able to ... speak freely," said Francois, a noted war correspondent for Europe 1 radio, in footage recorded by the private Turkish news agency DHA. Smiling broadly, he thanked Turkish authorities for their help.

French President Francois Hollande's office said in a statement that he felt "immense relief" over the release despite the "very trying conditions" of their captivity.

Elias, a freelance photographer, also was working for Europe 1 radio. Henin and Torres are freelance journalists.

A DHA report said soldiers on patrol found the four blindfolded and handcuffed in Turkey's southeast Sanliurfa province late Friday. Turkish television aired images of the four at a police station and a local hospital.

It wasn't clear whether a ransom had been paid for their release, nor which group in Syria's chaotic 3-year-old conflict held the men. In his statement, Hollande thanked "all those" who contributed to the journalists' release without elaborating. Longstanding French practice is to name a specific country that contributed to hostage releases. France denies it pays ransom to free its hostages. - AP