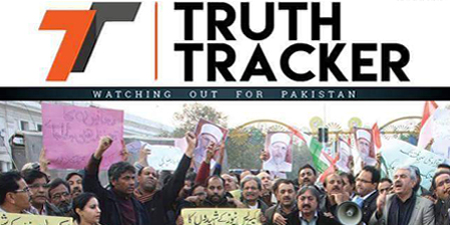 JournalismPakistan.com November 07, 2016


LAHORE - Senior investigative journalist and media trainer Mubasher Bukhari has launched a fortnightly magazine named Truth Tracker, managed by a team of professional local and international journalists.
Bukhari told JournalismPakistan.com this initiative had been taken despite a myriad of obstacles, because "we all believe strongly there is a need for this type of reporting."
Truth Tracker is being launched at a crucial juncture with Pakistan going through trying times, both internally and externally. The state is struggling under confused policies with little or no implementation.
The magazine will focus on four areas, as does its online sister news outlet, News Lens Pakistan (NewsLens.pk) - accountability, security, human rights and economic development. "We will introduce innovation in journalism in Pakistan through the techniques of fact-checking statements – calling out what's ture or not – and tracking promises that are flung about so casually by politicians. This approach pushes aside opinion in favor of facts and transparent reporting.
Bukhari pointed out that "we live in strange times where a piece of news is considered conspiracy theory, and a conspiracy theory is perceived to be news. Our seniors instilled unadulterated journalistic values in us - fearlessness and credibility.
"Truth Tracker is an attempt to revive the ethics of journalism in mass media, an attempt to revive the culture of accountability in government offices, and most importantly an attempt to safeguard the rights of the people," Bukhari said.
Leading national and International journalists have already joined the fortnightly magazine including Consultant Editors Lisa Schnellinger and Michelle Betz, international mentors Bronwyn Curran and Naheed Mustafa, and Editors Fatima Ali and Aurangzaib Khan.
Senior journalist Hassan Naqvi has also reportedly joined Truth Tracker as investigative reporter. He brings with him extensive experience of covering politics, economy and militancy for leading newspapers and TV channels including The Express Tribune, The Friday Times, Daily Times, The Nation, Pakistan Today and Capital TV. He also served as web editor for Media Times Group (Daily Times).
Lisa Schnellinger, said she had worked with journalists in 22 countries, and there's an essential skill that "we all use every day - sorting out what's fact and what's opinion. Finding and using facts distinguishes professional journalism from propaganda and commentary that poses as news."
She added that the mark of a professional is skill and hard work – to verify the reality of an issue or event, to present the facts in a clear, accurate way. Untrained and unprofessional journalists passively receive and pass on what officials say, offer personal viewpoints, or report without attribution what "everybody knows."
She added that in Pakistan, our team has been working together on election fact-checking since the beginning of 2013 when the online version of Truth Tracker was born (www.truthtracker.pk). "Our reporters and editors together learned the techniques of fact-checking, and the related skills of promise-tracking to follow up on what action candidates took once they were elected.
"Pakistan's peaceful transfer of power in 2013 was historic, but the real work of democracy goes on every single day. Our news cooperative News Lens Pakistan (www.newslens.pk), founded in 2014, carried forward the work of Truth Tracker with its focus on accountability, human rights, security and economic development reporting. We work with citizens, organizations and officials to hold accountable those who hold public office.
Lisa added that Democracy isn't for lazy people. "In these pages, you'll see the hard work of a team devoted to tracking down the truth. We hope you will use this information to keep building democracy in Pakistan – and support Truth Tracker journalists as they carry on."