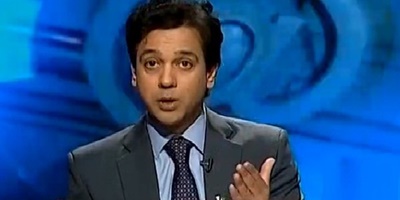 JournalismPakistan.com July 02, 2015
PESHAWAR: Ahmed Quraishi (pictured), anchor of current affairs program @Q on Express News Television and his producer Faheem have tendered an unconditional apology to Peshawar High Court for airing a program on a subjudice matter.

In the program aired on May 29, Quraishi did a short commentary on an alleged tiff between Peshawar High Court Justice Ikramullah Khan and Bannu Cantonment Commander Brigadier Attique Ahmad.

He said the issue should not be posed as a rift between military and judiciary as this may harm both the institutions.

Justice Ikramullah Khan's official vehicle along with the police squad was stopped from entering the Bannu Cantonment at Muslim Gate on the evening of May 27. The PHC Bannu Bench is located inside Bannu Cantonment.

Later, the PHC Bannu Bench additional registrar issued notices to the federal defence secretary, KP home and tribal affairs secretary, Bannu 325 Brigade Commandant Brigadier Attique Ahmad and Bannu deputy commissioner to appear personally on May 28.

However, the defence secretary, KP home and tribal affairs secretary and Brigadier Attique did not appear before the court the next morning. Deputy attorney general represented the federal defence secretary while Bannu DC marked their presence.

On May 29, Ahmed Quraishi did a program on the issue and the court also issued notices to the anchor and his team for commenting on a subjudice matter.

The anchor and his producer have now submitted an unconditional apology in court for their inadvertent mistake. The court has, however, yet to decide on the regret expressed by them in writing.