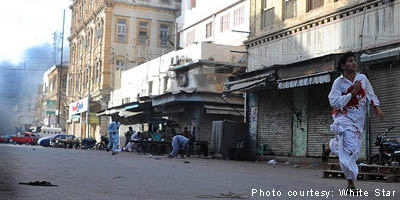 JournalismPakistan.com May 23, 2012
KARACHI: Two members of a Dunya TV live crew were injured in shooting Tuesday when a group of unidentified men suddenly began firing at an AwamiTehrik rally led by RasoolBuxPalejo against the possible partition of Sindh province as well as the ongoing operation by law enforcement agencies in Lyari.

Reporter Aslam Khan and cameraman Khalil Ahmad were covering the rally when armed men suddenly began firing indiscriminately.

As a result, the Dunya TV crew members were severely injured and had to be rushed to hospital.

No organization has accepted responsibility for the shooting. Ten people were killed in the firing, which lasted more than 30 minutes.

The armed men set a number of vehicles on fire.

Additional Rangers have been deployed in the violence wracked area and a search operation is being conducted.