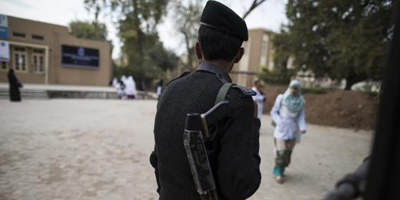 JournalismPakistan.com November 25, 2014
PESHAWAR: Death threats, bombings and getting attacked is part of the job for many Pakistani journalists but they say one of the biggest barriers to seeking counseling to help cope is the stigma that they need it - and others in the business talking about it.

The country is plagued by a Taliban insurgency, deadly criminal gangs, extrajudicial executions and rising sectarian killings. Immersion in the extreme violence and daily threats mean many Pakistani journalists suffer from post traumatic stress disorder, health professionals said this week during the opening of the country's first trauma center for journalists.

The center is supposed to help address Pakistan's massive shortfall of trained counselors and help journalists deal with the psychological fallout of reporting bombings, militancy and drone strikes.

Many of the problems that plague journalists also trouble frontline security forces, bomb technicians and civilians. Few receive help - Pakistan has only 450 practicing clinical psychologists for 180 million citizens, industry professionals said.

But many journalists say the fear of exposure by cutthroat colleagues keeps those in the industry from seeking help. The competition for jobs is intense, and the country's largest journalist union is split into feuding factions.

"The major challenge is your colleagues ... They speak against you," said Jamshed Baghwan, a television journalist for Express News. His family home has been attacked three times but he doesn't need counseling, he said.

That's why the new German-funded Competence and Trauma Center for Journalists, nestled amid the rose gardens and brick university buildings in the northwestern provincial capital of Peshawar, says it keeps patient confidentiality absolute.

Dr Erum Irshad, head of the university's psychology department, said that 14 of 20 journalists who participated in a pilot study suffered from severe stress. No larger studies exist. Seven journalists had already sought help, she said.

Journalists at the opening told Reuters stories of being kidnapped by the Taliban, wading through hundreds of body parts at mass bombings, or witnessing decapitations. But all said they would be reluctant to seek help.

Journalists who sought help privately say many counselors are not equipped to deal with their daily exposure to violence.

One journalist told Reuters he saw three private psychologists and a psychiatrist after suffering severe panic attacks caused by death threats and violence he had witnessed. Their advice: pray more.

"This is a very neglected field," said Professor Syed Haroon Ahmed, head of the Pakistan Association for Mental Health. "People are not dying, so it is not a priority." - Reuters

Photo caption: A policeman stands guard at the Competence and Trauma Centre for Journalists inside a university's psychology department in Peshawar. - Reuters