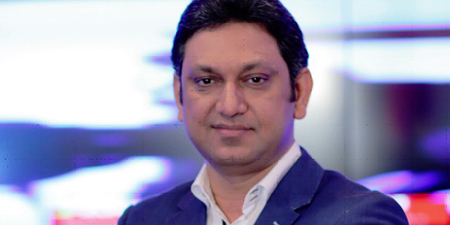 JournalismPakistan.com January 29, 2017


ISLAMABAD – BOL News has accused PEMRA Chairman Absar Alam as being biased and working to protect the "Neela Peela" channel (Geo News).
In its program Pakistan Newsroom aired Sunday, host Faysal Aziz Khan (pictured) said PEMRA acts promptly against BOL even over petty and false matters, and shuts it down without even serving prior notice.
However, when the matter is taken to the high court, the regulator is given a shut-up call for not fulfilling any legal requirement, said Faysal, who is the Chief News Officer and President BOL Media Network.
He minced no words in saying PEMRA had failed to act against Geo despite questionable comments made by its analysts on several occasions, and that Absar Alam was actually working against Pakistan and protecting Geo. Faysal said BOL had brought this point before the court also.
He then turned to a new FIR lodged by a citizen in Karachi against Absar Alam and Mir Shakilur Rehman, head of Geo/Jang Group under anti-terrorism act. The host said there were several previous FIRs against Shakil but the government had never acted against him.
On January 26 PEMRA slapped a ban on BOL News program Aisay Nahi Chalay Ga hosted by Dr. Aamir Liaquat Hussain for preaching hate. However, the following day, the ban was overturned by the Sindh High Court.
In the hours after the ban BOL transmission was blacked out in several regions across the country.