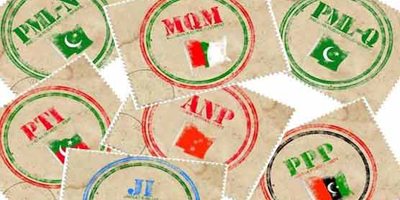 JournalismPakistan.com April 12, 2014
ISLAMABAD: All politics – and all media – is essentially local. That is how political parties in Pakistan campaigned on private TV channels for 2013 General Elections.
During its 11th session, the National Assembly was told a total of 62,622 ads were telecast "regarding the election campaign of political parties" on 69 TV channels between March 17-May 11, 2013.
The ads campaign on private TV channels was dominated by three parties – Pakistan People's Party Parliamentarians (PPPP), Pakistan Tehreek-e-Insaf, and Pakistan Muslim League-Nawaz (PMLN).
The PPPP had an aggressive campaign with 26,237 ads on 51 TV channels, followed by PTI with 16,363 on 56 channels and PMLN having 12,521 ads on 50 channels. In other words 88% of the total ads were about these three parties. Apart from highlighting their performance and agenda, the political ad campaigns were aggressive, personally targeting the main leaders.
However, the details shared on the floor of the National Assembly makes an interesting yet confusing reading of the political parties' preferences when it came to planning their electronic campaign.
Noticeably the political parties went for local TV channels than those with nationwide reach.
Cementing its constituency, the main share of PPPP ads went to regional Sindhi channels - Sindh TV News (2448), KTN News (1909), and Mehran TV (1107).
On the other hand the former ruling party's 1323 ads were shown on ARY News, followed by 1209 on Aaj News, 993 on Geo News, 841 on Express News, 795 on Dunya News, 727 on DawnNews and 597 ads on Waqt TV.
However, the PPPP ads on Star Lite (1364), Silver Screen (1297), Health TV (976), Awaz (1250), ARY Zauq (765), ARY QTV (765) and Kohinoor (588) make little sense given these channels' apolitical content. Interestingly, other political parties showed little or no interest in these channels.
The state-run channels – PTV Satellite and PTV National – could only get 85 and two PPPP ads.
PTI's campaigners focused on Lahore, with 1891 ads on City 42, a channel based in Punjab's capital. Surprisingly, the party also opted for Kohinoor TV – 1190 ads while other parties, especially PMLN, were not that keen for this particular channel. Kohinoor TV is owned by Ariel Broadcasting Services, according to PEMRA.
Otherwise PTI distributed its ad campaign fairly across the main TV channels – DawnNews (650), Aaj News (648), Geo News (440), ARY News (564), Express News (597), Waqt TV (552), Dunya News (704), Saama (592), Channel 5 (561), ARY Digital (361) and Metro One (727).
Noticeably PTI did not opt for regional Sindhi TV channels save Sindh TV where its 338 ads were telecast. The PTI did not ignore the state-run PTV Satellite and ran 280 ads. However, only 21 ads of the party were telecast on Khyber TV, a regional channel of Khyber Pakhtunkhwa where PTI formed its provincial government.
The PMLN also realized the importance of local TV channels giving most of its ads to City 42 – 1347. The PMLN's campaign fairly covered all the main channels – both national and regional. The party's choice seemed to be the main national channels – DawnNews (951), Aaj News (486), Geo News (767), ARY News (312), Express News (680), Waqt (830), Dunya News (533), Samaa (453), and PTV Satellite (325).
Unlike PTI which opted for a single regional Sindhi channel, the PMLN distributed its campaign across all channels but on a much lesser scale than PPPP – Sindh News TV (261), KTN News (279), Mehran TV (116) and Sindh TV (284).
The PMLN also made use of the entertainment channels for its election campaign. Its ads were also shown on HBO, Play, Hum2, Masala and AXN.
The PPPP, PTI and PMLN also showed little interest in regional southern Punjab TV channels. Waseeb TV only got 628 PPPP, 231 PTI, and 297 PMLN ads.
The rest of the political parties, including PMLQ, JI, MQM, PMLF, and ANP did not opt for an aggressive campaign on TV channels.