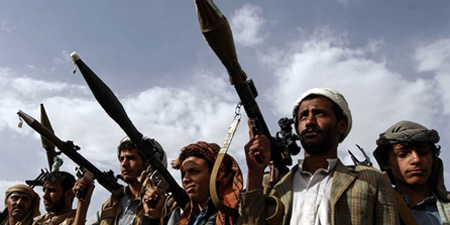 JournalismPakistan.com December 04, 2017


NEW YORK - Gunmen from the Ansar Allah movement, commonly known as the Houthis, on December 2 stormed the Sanaa headquarters of the television channel Yemen Today and detained the channel's employees, according to news reports. Mohammed Gobari, a Reuters correspondent in Sanaa, told Committee to Protect Journalists that at least three building guards were killed during the attack and that the gunmen are still holding at least 40 employees in the building.
The TV station is linked to the People's Congress Party of former President Ali Abdullah Saleh, who was killed today in an attack on his convoy south of Sanaa after an alliance between his forces and the Houthis disintegrated.

"Ansar Allah's attack on Yemen Today shows a profound contempt for press freedom. CPJ calls on the group to immediately free all of the Yemen Today employees," CPJ Middle East and North Africa Program Coordinator Sherif Mansour said from Washington D.C. "Journalists covering Yemen's conflict and humanitarian situation play a critical role, yet regularly find themselves targeted for the work they do. All sides to Yemen's conflict must ensure that journalists can work freely and safely."

Sanaa is currently the scene of heavy fighting between the Houthis and forces loyal to Saleh. Saudi-led coalition airstrikes have continued to target Houthi forces and institutions in the city.

At least two journalists have been killed in the country's ongoing civil war this year, while others have been detained by Houthis and attacked by Houthis or the Saudi coalition, CPJ research shows. The collapse of state institutions has forced journalists to work in a climate of impunity and fear.
Photo: middleeasteye.net