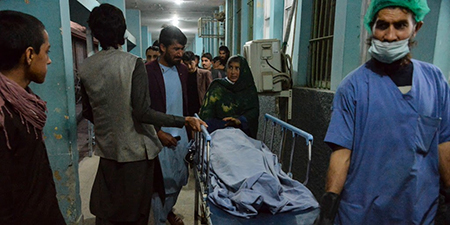 JournalismPakistan.com March 11, 2021


Over 300 Afghan female journalists have quit their jobs in recent months due to security concerns, including a spate of female media workers' killings in the country. The International Federation of Journalists (IFJ) is deeply concerned over the critical situation of Afghan journalists and calls on the Afghan government to guarantee their safety.
An Afghan Journalists Safety Committee, report revealed several female journalists from 34 provinces have left the country due to the threats and harassment they were suffering. The report also cites the recent wave of targeted killings as one of the main reasons for women to stop reporting.
The remaining female journalists are demanding the implementation of further safety measures to continue working, while media employers claim they can't hire female journalists anymore over fears for their safety.
The situation has worsened since 2 March, when three female media workers from Enikass TV were shot dead by unknown gunmen in the eastern city of Jalalabad, located in Nangarhar province. In December 2020, Enikass TV anchor Malala Maiwand was murdered in a similar attack in the same city.
As a result, Enikass TV has decided not to hire any additional women reporters until the security situation in the country improves. At the same time, ten remaining female staff were instructed to work from home to ensure their safety.
"I love journalism but I also love to live," Nadia Momand, a presenter at Enikass, reportedly said.
Nangarhar is a province controlled by the Islamic State (IS), which has claimed responsibility for the killings of the four Enikass female journalists. The media has also blamed the Afghan government for the lack of safety policies to protect media workers.
"Extremist groups and terrorists, like Daesh [Isis], try to make it impossible for us to have women in the office. The entire province is unsafe and the government is not providing security for us," Zalmay Latifi, director of Enikass, told The Guardian.
Since peace talks started between the Taliban and the Afghan government in September 2020, attacks against media workers have continued to rise. The UN mission in Afghanistan has reported that at least 11 human defenders and media workers were killed in targeted attacks in Afghanistan from September 12 to January 31, 2021.
IFJ General Secretary, Anthony Bellanger, said: "The Afghanistan government must intensify its efforts to protect journalists who risk their lives every day to keep the country informed. The IFJ is deeply worried about the recent wave of violence towards female journalists, which is driving them out of the profession over security fears."—IFJ media release/Photo: AFP