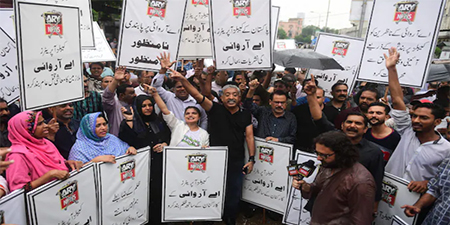 JournalismPakistan.com August 20, 2022


ISLAMABAD—Leading US-based newspaper Washington Post has criticized the recent actions of the Pakistani government against the media, pointing out that: "The power struggle between Pakistan's government and its ousted prime minister, Imran Khan, has escalated dramatically, with authorities targeting the pro-Khan press."
The US paper, in its recent report titled 'With political tensions rising, Pakistan launches media crackdown', noted: "A senior aide to Khan, arrested and imprisoned for making anti-military comments on a TV talk show two weeks ago, was transferred Wednesday to a hospital after his lawyers said he had been tortured in custody."
"The popular cable channel where he spoke, ARY News, has been forced off the air, and two of its news anchors have fled the country. Other journalists say they have been harassed and threatened," it further stated.
According to the paper, the comments by Khan's aide Shahbaz Gill on ARY, the most openly pro-Khan TV station, struck an especially raw nerve. "Dawn newspaper, an influential English-language daily, warned that the crackdown "could set a dangerous precedent" and said that by overreacting, the government had "given ammunition" to Khan and his party."
Several journalist unions are protesting the shutdown of ARY News by the government, while it has also been condemned at the international level. Despite the court orders, the transmission of the channel has not been restored yet.
Photo: Asif Hassan (AFP/Getty Images)