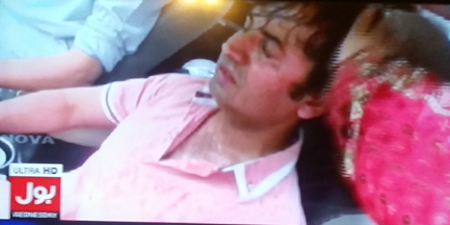 JournalismPakistan.com August 09, 2017


ISLAMABAD – Television crews, among them ARY and BOL, covering former Prime Minister Nawaz Sharif's rally Wednesday were threatened, harassed and beaten up by supporters of ruling PML-N.
ARY News reported that one of its anchors was threatened he would be killed. A person at the rally incited party workers to violence.
The anchor was pushed and shoved, and an attempt made to snatch his cell phone. Police thwarted a bid by the rally's participants to attack the channel's news gathering van.
Reporters of BOL News were also beaten up as they filmed an ambulance stuck in traffic.
Both ARY and BOL are anti-PML-N channels.
There were also reports of attacks on journalists from 92 News, Samaa, and Sindh TV.
Nawaz Sharif started his journey to Lahore Wednesday, after being disqualified by the Supreme Court of Pakistan last month.
His daughter Maryam Nawaz Sharif, however, told supporters not to attack the media persons. "Dear PMLN supporters, pls refrain from attacking or misbehaving with anti-N media houses. It's neither our party culture nor NS legacy. TY," she said in a tweet.
Opposition politicians condemned the attacks on the media crews and termed it an attack on the freedom of the press.