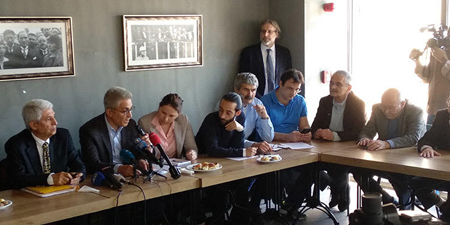 JournalismPakistan.com April 23, 2019


ISTANBUL - The Committee to Protect Journalists has called on Turkish authorities to not take eight former employees from the daily Cumhuriyet into custody until the Supreme Court has heard their colleagues' appeal.
At a press conference in Istanbul on Monday, lawyers representing the employees said they would ask authorities to delay acting on a local appeals court ruling from February.
A court convicted 14 Cumhuriyet staff of terrorism-related charges in 2018. On April 19, authorities entered the local appeals court ruling that upheld the verdict for eight of those defendants into the National Judiciary Informatics System, an intranet database for the Justice Ministry, courts, and police, according to reports.
Now that the ruling is in the system, the defendants who were sentenced to less than five years in prison could be taken into custody "at any minute" the lawyers said at the press conference.
Under Turkish law, the eight staff have exhausted their ability to appeal. Their colleagues, who were sentenced to more than five years in prison in April 2018, are waiting for the Supreme Court to hear their appeal, according to reports. That ruling could overturn the original conviction, Mustafa Kemal Güngör, a lawyer who is among the defendants, told CPJ.
Tora Pekin, one of the lawyers representing the staff, said at the press conference that the legal team was also waiting for the Constitutional Court of Turkey and the European Court of Human Rights to hear appeals in the case filed more than two years ago.
"Turkish authorities should delay acting on the convictions of Cumhuriyet staff until the courts have ruled on all 14 defendants and their avenues of appeal have been exhausted," said CPJ Europe and Asia Program Coordinator Gulnoza Said in Belgrade, Serbia. "The prosecution of the Cumhuriyet journalists and staff is a blot on Turkey's record and one of the most visible signs of the government's intolerance for a free press."
The Cumhuriyet staff whose appeals were heard by the local court are former cartoonist Musa Kart, former columnist and publishing consultant Kadri Gürsel, who is also an executive board member of the International Press Institute, former columnists Güray Öz and Hakan Kara, former board members Önder Çelik and Bülent Utku, former accountant Emre Ä°per, and the lawyer, Güngör. None of the defendants are currently affiliated with the newspaper.
Güngör told CPJ on April 20 that if the Supreme Court overturned the original conviction, it would invalidate the prison terms for those already ordered to serve their prison sentences, including Güngör.
The columnist Gürsel told CPJ that he thinks that the timing of their case was political because sending the defendants to prison before local elections on March 31 would have been "against the interests of the [ruling] party."
Gürsel said that the appeals verdict was entered the day after Istanbul's new mayor, Ekrem Ä°mamoÄŸlu, received his certificate of election that validates his win. "This trial has nothing to do with the law. All of the stages, from us being taken into custody by a [police] operation to the verdict being uploaded to the [system] is not lawful but political. Uploading the verdict approved in February to the system two months later is an evidence of the whole process being political," Gürsel said. – A CPJ News Alert