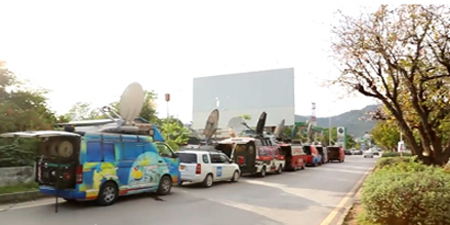 JournalismPakistan.com October 03, 2019 Stephen Manuel



With all the talk about journalists churning out fake news, being unduly biased, accusations of dabbling in power and political games, being steeped in corruption and taking advantage in various degrees through their job, the media has been portrayed as the new enemy, and it is a frightening as well as unhealthy development.
In the past two months, in Pakistan, two journalists have been killed, four others attacked, three injured in attacks, and one more threatened with death. Those are startling and alarming stats.
Furthermore, seven journalists have been killed in Pakistan this year. Eighty-six have been killed the world over, and there have been more than 150 attacks on media personnel globally in the past year.
Journalists are under threat, including and especially from governments.
At a joint press conference at the White House in July, Prime Minister Imran Khan asserted that media in Pakistan is free to report on whatever it likes. "It is free," he said, "They write more things about me than you would imagine. I'm blamed for every slight that takes place in the country. There is no censorship on the media."
And yet, earlier this month, government spokesperson Firdous Ashiq Awan said cases against the media would be tried by special tribunes, very much like the special terrorism courts in Pakistan. Higher courts would oversee these cases, she said.
Of course, there was an immediate outcry from the media who rightly saw this as an attack on the freedom of the press. The All Pakistan Newspapers Society (APNS) said the move was a "black day" for the media and would fight the measure in the legislature and judiciary.
The move came on the heels of another development when the government of Imran Khan was accused of intimidating the media to blackout opposition events and protests. Indeed, certain channels were temporarily taken off the air.
That is undoubtedly not press freedom in the real sense. It's acts like these that encourage not only government functionaries to treat the media as they like but gives other the license to do so as well. It is this mindset that is directly responsible for the increase in attacks and threats against media personnel, making Pakistan one of the most dangerous countries in the world for journalists.
Journalists and human rights advocates have voiced concern about the proposed introduction of the tribunals and have said it would only serve to further punish the media, which has never been safe from the wrath of various governments in the past, including the draconian martial law years of General Zia-ul-Haq when not only were newspapers censored, but several journalists were either thrown into jail or flogged in public.
What is worse is that the government has chosen to deny several cases of reporters being abducted and beaten, popular columnists being denied space, and advertising business cuts.
This has led to the publishing houses and news channels to revert to self-censoring. Hence the very notion that the media is free becomes debatable.
One of those to have experienced the latest style of media suppression was Umar Cheema, an investigative reporter who works for The News and has a Twitter following of over a million. He is read. His opinion matters.
Yet, just two months ago, he was forced to take down his Twitter account for a week after he tweeted criticism of the government. He went on record as saying that in the past military governments would pick up journalists, beat them up, or would threaten to make them disappear. Now, however, the government is much more subtle and sophisticated, he pointed out.
Foremost of those to debunk the government's claim that the media is free, is iconic political talk show host Hamid Mir. He said the prime minister's assertion that Pakistan's media is among the freest in the world was "categorically false."
Pakistan is currently ranked 142nd out of 180 countries in Reporters Sans Frontiers 2019 World Press Freedom Index, three places lower than it was last year.
True, the media in Pakistan might not be ideal. It may be corrupt. It may be biased, and it may be untruthful, but the fact remains that there are those within who can still steer their publications or channels in the right direction and do so.
This newfound disdain for media and lack of support from the government has resulted in one death too many. Others fear for their lives or have been attacked or threatened.
On Saturday, some nine assailants attacked 24 News Deputy Bureau Chief Irfan Malik in his office in Media Town.
Just a month ago, 92 News Television reporter Mirza Waseem Baig was gunned down outside his home.
Days before that, VSH News Television reporter Iqbal Baloch's car was stopped, and he was threatened with death by a group of gun-wielding men. He was told not to report on certain issues.
Also, around the same time, Ali Sher Rajpar, the president of the press club in Padidan, Sindh, was fatally shot five times after unsuccessfully requesting police protection because he had been threatened in connection with his coverage of local corruption.
Another Pakistani journalist, Malik Amanullah Khan, was gunned down in the Parowa area of Dera Ismail Khan district, in Khyber Pakhtunkhwa. He, too was the president of a local press club.
Muhammad Bilal Khan, a journalist, and blogger whose YouTube channel had more than 50,000 followers, was shockingly hacked to death in an Islamabad in June.
The year still has a few months to ago. The escalation in violence against journalists continues. The future does not augur well.
Instead of criticizing the media or playing blame games, it would be so much more appreciated if the government consulted with the media, took them into confidence, encouraged them to be more progressive and professional, and, above all, took serious measures to protect media persons.
The media is not the enemy.