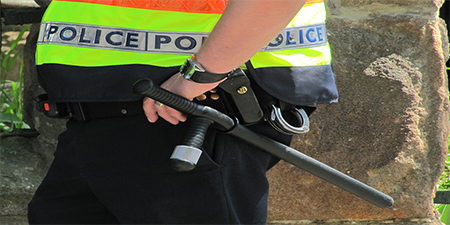 JournalismPakistan.com July 19, 2022


Thai police have released a document containing a list of reporters, activists, and citizen journalists covering pro-democracy protests, including their photographs, personal information, and social media accounts.
The International Federation of Journalists (IFJ) has condemned the document's release and urged the Thai authorities to safeguard all working and citizen journalists' safety and security.
Accompanying the journalists' data, the document, marked 'classified,' also contains details of Facebook accounts and a description of activities for each name listed.
Named journalists include Burapat Chanpratad, a multimedia reporter for Prachatai, an independent and non-profit online news portal. The reporter believes he was added to the watchlist after interviewing pro-democracy female activist Tantawan Tuatulanon at a checkpoint near an area where a royal motorcade was scheduled to pass by.
Nattapong Malee, who runs the Ratsadon News Facebook page, was also named. On September 13, 2021, Nattapong was one of two citizen journalists arrested while covering demonstrations at the Din Daeng intersection, charged with violating an emergency decree for breaking curfew. Nattapong has reported being followed and photographed by police officers while working in the field.
A third journalist named was Suramet Noyubon, a reporter for social media-based news platform Friends Talk.
In January, the police raided the homes of several journalists, including Suramet, accusing them of being related to the movement of anti-government protests. Surameth filed a lawsuit against two police officers involved in the raid.
On July 13, Burapat, Nattapong, and Suramet met David Murphy, a United Nations Office of the High Commissioner for Human Rights (OHCHR) representative in Bangkok, to discuss the watchlist. Their complaints were received, and recommendations were given on additional steps to address the situation, including notifying the National Human Rights Commission.
Intimidation, harassment, and threats against journalists, media workers, and activists are ongoing in Thailand. Local authorities use various tactics, including police visits to journalists' homes, to create a 'climate of fear' in the country.
The IFJ said: "The IFJ condemns the release of the police watchlist including the names and personal information of journalists and activists. The Thai authorities must end the use of intimidation tactics to silence independent and critical journalism. Threats to journalists, media workers, and human rights activists are threats to democracy."—IFJ media release