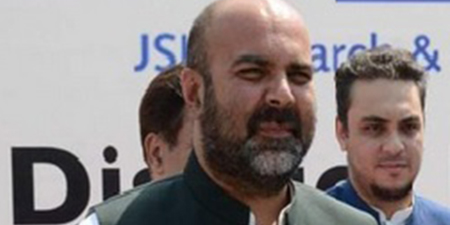 JournalismPakistan.com September 26, 2022


ISLAMABAD—Khyber Pakhtunkhwa's Minister for Finance Taimoor Khan Jhagra, Sunday highlighted how some journalists take partisan stances over the same event and act as puppets.
On August 29, audio of former Finance Minister Shaukat Tarin and Taimoor regarding the government's deal with the IMF was leaked, Asad Ali Toor termed it an "explosive telephonic conservation." He said the leaked audio revealed the conspiracy to derail the deal with IMF. "When I broke this news, #TaimurJhagra shamelessly denied it and called me alfalfa journalist."
However, the Khyber Pakhtunkhwa's minister for finance noted how Toor changed his tone after a spate of audios were leaked regarding the cabinet meetings of Prime Minister Shehbaz Shairf.
On Sunday, audio clips featuring leaders of the ruling coalition surfaced as the PTI questioned the security of the Prime Minister's Office (PMO).
Reacting to these audio leaks, Toor tries to show that he is "indignant." He says the leaked audio of allegedly "PM @CMShehbaz shows what is the authority of constitutional chief executive of the state and how he was been bugged, blackmailed, harassed and maligned by his own subordinate agencies!"
Commenting on Toor's utterly different reaction, Taimoor said: "Here is a great example of the section of the media acting as puppets more political than politicians themselves. As I just told some friends, for politicians to be partisan is excusable; but I wish you had taken this stance a month back."
However, in another tweet, Taimoor condemned the practice of recording private conservations. "When a leak of an audio of mine with Shaukat Tarin surfaced, it disgusted me that someone believes it's okay to record private audio & leak it. Just because a leak happens on the other side doesn't make it right. And it looks like several sensitive conversations have been hacked."