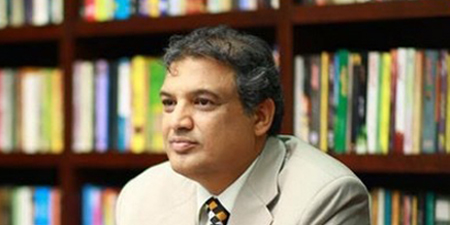 JournalismPakistan.com September 16, 2020


ISLAMABAD—Journalist Suhail Warraich on Tuesday defended the title of his new book, saying it only depicts the cartoonist's impression of the political situation.
In an interview with VOA, he said the government and some state institutions did not like the cover. The title shows the army chief as a dominant figure with Prime Minister Imran Khan playing at his feet and is shown as a child. The opposition looks on wistfully from the window.
The book—Yeh company nahin chalay gi—is a compilation of Warriach's published columns. It was withdrawn from bookstores over its controversial cover.
"The government thought it demeaned the office of the prime minister while the state institutions insist why they have been even mentioned," he said. "The cartoonist has a view. When it is said that we (the government and the military) are on the same page, it does not matter if someone is up and someone is down."
He added that it only captured the political narrative that the government and the military are on one page while the opposition is hopelessly looking on. "When a situation is depicted in a cartoon, obviously it is exaggerated."
Warraich maintained that the PTI government had restricted freedom to expression. "We, on the other hand, demand more and more freedom of expression. It will help society to be creative."
He said he was not saying that the government would go home immediately. "But I do think that the way this government is governing the country, the way it is running the economy, I don't think it can go on."
Photo: Twitter (@suhailswarraich)