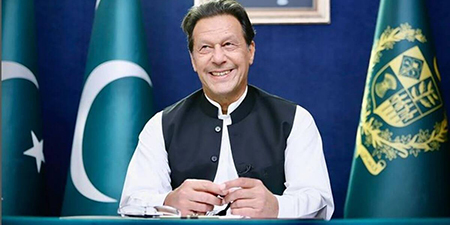 JournalismPakistan.com September 05, 2022


ISLAMABAD—Journalists have criticized former Prime Minister Imran Khan for his comments regarding the army chief's appointment at his rally in Faisalabad.
In his speech, Khan said the PMLN and PPP fear that if a patriotic army chief is appointed, he will inquire about their alleged corruption. "They want to bring their own army chief…they are afraid that if a strong and patriotic army chief is appointed, he would ask them about the looted wealth."
The harshest comment came from Murtaza Solangi, executive editor of Naya Daur Media and former head of Radio Pakistan. He termed the former prime minister a madman and wondered if there was a place for him in a zoo.
However, Ansar Abbasi, a journalist with The News, said the former prime minister is frustrated and ready to use any tactics to come back into power.
Cyril Almeida, formerly of Dawn, said, "Next army chief will serve at IK's pleasure… his legitimacy could be over if IK goes all jalsa on him…"
Hamid Mir of Geo News asked the former prime minister not to make Pakistan Army controversial. He highlighted the commitment of the Pakistan Army jawans in rescuing flood victims across the country.
Absar Alam, a former PEMRA chairman, said Khan's comment made the appointment of the coming army chief controversial.
Kamran Shahid, a Dunya News anchor, also thought that the appointment of the army chief had been made controversial. "Imran khan made the whole army leadership controversial, especially the current and forthcoming COAS—one guess the military shall ask Imran khan to certify among all of the senior leadership of PAK army and then the new COAS to be finalised!!"