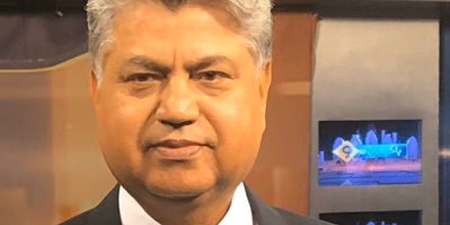 JournalismPakistan.com January 06, 2020


ISLAMABAD—Murtaza Solangi, Executive Editor of Nayadaur Media, has called for the boycott of Minister for Science and Technology Fawad Chaudhry for slapping anchor Mubasher Lucman at a marriage ceremony.
In a tweet, the former director-general of Radio Pakistan showed no sympathy for Lucman but added that there was no justification for violence against journalists.
Like the minister, Solangi also questioned Lucman's journalistic credentials.
"Mubasher Lucman is not a credible journalist and he may have leveled false accusations against Fawad Chaudhry and many more. That warrants legal recourse. That does NOT justify violence. If media houses and journalists have any spine, they should boycott Fawad till he apologizes."
This is the second time the minister has slapped a journalist. Earlier, he slapped Sami Ibrahim, also at a marriage ceremony.
Photo: Twitter (@murtazasolangi)