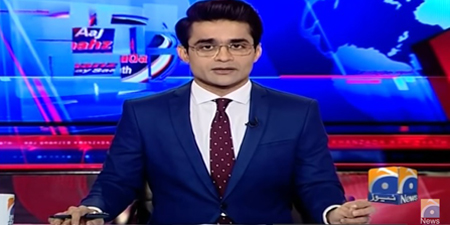 JournalismPakistan.com January 12, 2019


ISLAMABAD – Geo News presenter Shahzeb Khanzada (pictured) said in his show on Friday that it seems prominent political analyst Dr. Shahid Masood is intentionally being targeted in an alleged PTV corruption case.
He pointed out that since his arrest one month and 19 days ago, he was neither granted bail nor formally charged.
In his program 'Aaj Shahzeb Khanzada Kay Saath,' he said the Federal Investigation Agency (FIA) was probing the case. "Two other accused in this case were granted bail after they paid back the money. But Dr. Shahid Masood remains in jail. He is brought to the court handcuffed. Doing so is humiliating and inhuman as nothing has been proven against him yet," Khanzada said.
The Islamabad High Court that was to indict Dr. Masood on January 10 reserved a decision until January 18 after hearing his counsel's arguments.
The PTV's lawyers claim that while the two other accused had returned the money, Dr. Masood had to pay back the remaining amount.
It is alleged that when he headed PTV, he entered into a contract with a fake company for earning media rights from the Pakistan Cricket Board. As a result of this, PTV reportedly suffered a financial loss of Rs38 million.
Masood is a political analyst and president of Airwaves Media Group that runs NewsOne Television, TVOne, Waseeb, and RadioOne.