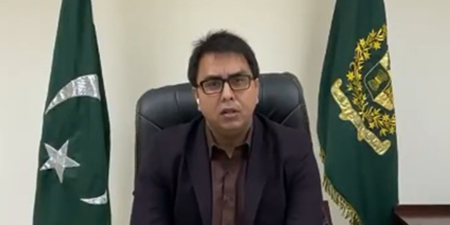 JournalismPakistan.com September 24, 2022


ISLAMABAD—PTI leader Shahbaz Gill has regretted the role of certain media houses that made fun of his ordeal during his incarceration in a sedition case.
In a video message, Gill said some of the media houses which present themselves as champions of human rights "made fun of torture against me and my health."
Police arrested him on August 9 for making a statement on ARY News deemed "inciting the public against state institutions."
On September 15, the Islamabad High Court (IHC) granted him bail.
Regulator PEMRA took ARY News off the air after Gill's comments. Only after the IHC's intervention was the channel allowed to resume transmission on September 2.
Gill talked about the day police brought him to the court in a wheelchair and constantly asked for an oxygen mask. "I was under the influence of some medicine and did not know what was happening around me. I was gasping for breath and asking for a mask." He regretted that it was widely ridiculed.
However, Gill said a full-fledged effort was made to portray him as a "foreign agent."
He maintained that the people who enjoy the torture of their opponents by the state need treatment.