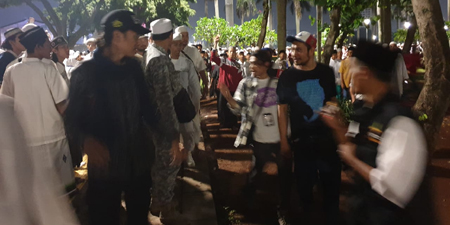 JournalismPakistan.com February 25, 2019


Several journalists covering the Islamist gathering '212 Munajat Night' in Jakarta on February 21 were attacked by members of the Islamic Defender Front.
The International Federation of Journalists (IFJ) and its affiliate the Alliance of Independent Journalists (IFJ) condemned the attack against the journalists who were simply doing their job.
The gathering took place near the National Monument in central Jakarta and was organized by the Jakarta Chapter of the Indonesian Ulema Council and the Dakwah Front Institution. There were thousands of participants. Several journalists were waiting near the VIP entrance to conduct interviews when a rumor of a robbing broke, and chaos ensued. Some of the journalists recorded the chaos; others tried to get more information.
Several of the participants started attacking the journalists, demanding that they delete the footage. One journalist from Detik.com was dragged into the VIP tent where he was verbally abused and hit. His phone was stolen and all footage deleted. He went to the local hospital for treatment and made a report to police.
AJI said: "We demand the police to bring the perpetrators of the crimes to justice so that the similar attacks will not happen again in the future. The intimidation and violence toward journalists are against the Press Law. The inability to create save environment for journalists also will block the access for public's right to get the information."
The IFJ said: "The attack of several journalists for simply doing their job is very concerns and raises questions about the safety of Indonesia's media. IFJ and AJI records show this was not the first case of violence against journalists in Indonesia. We urge the authorities thoroughly investigate the incident and bring those responsible to justice."- IFJ media release