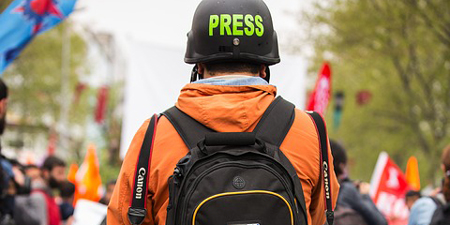 JournalismPakistan.com September 30, 2017


NEW DELHI - Authorities in India must move quickly to identify those responsible for sending at least five threats to kill journalists for critical coverage of the government and take steps to ensure the journalists' security, the Committee to Protect Journalists said today.
Deeksha Sharma, a reporter for The Quint news website; Mohammed Ali, a reporter with The Hindu daily newspaper; and Sonal Mehrotra Kapoor, a reporter with the NDTV broadcast news network received WhatsApp messages in Hindi that threatened to "finish off" anyone who writes critically about the ruling Bharatiya Janata Party, according to the journalists and news reports.
The message said that Gauri Lankesh, the publisher and editor of Gauri Lankesh Patrike who was shot dead in Bangalore on September 4, was killed by those who believed in the Hindutva ideology - one that advocates for supremacy of Hindus. "She was killed because she criticized the Modi government," the message said. "She was killed because she is against Hindus. She was an anti-national."
"The government of Prime Minister Narendra Modi needs to unambiguously condemn these threats and make clear that it stands on the side of press freedom and journalists' safety," said Steven Butler, CPJ's Asia program coordinator in Washington, D.C. "Given the reference to the recent murder of a journalist, the police need to move quickly to identify and bring to justice those responsible for these threats."
India ranks 13th on CPJ's Global Impunity Index, which spotlights countries where journalists are murdered regularly and their killers go free.
Sharma told CPJ that she received the message at 3:00 am on the morning of September 17, and that she lodged a complaint at a police station in Noida, a suburb of Delhi, later that day. "The threat wasn't related to any particular story," Sharma said. "I also haven't done stories critical of the government. I mostly cover pop culture [for The Quint]," she said. When contacted for comment by CPJ, Anil Kumar Sahai, the station house officer of the sector 20 police station in Noida where Sharma lodged her complaint, said, "I'm busy and I can't discuss cases on the phone."
Ali, a reporter with The Hindu who covers western Uttar Pradesh State, including communal violence, told CPJ that he received the message around 10:00 p.m. on September 20 and when he replied, there was no response. He received the same message a couple of hours later from a different number. The next morning, September 21, he again received the same message from a different number.
Ali said his organization hasn't filed a complaint with police but he plans to do so soon. "This wasn't related to any particular story," he told CPJ. "I couldn't understand what's going on and I've been thinking, 'why me?'"
CPJ made calls and sent a text message to Madhur Verma, public relations officer of the Delhi police, for comment, but he did not respond. The Scroll.in report quoted him as saying that three complaints had been lodged and a first information report, the first step for police investigation in India, had been registered. "These messages are being sent out to a lot of journalists in order to create a fear psychosis," said Sonal Mehrotra Kapoor of NDTV, who received the threat on September 21. Kapoor covers politics and gender issues. "They want to make it a deterrent for people to enter the news industry," she said.
It's not clear how many journalists have received the threats. Abhay Kumar, a reporter with the Asian News International agency, as well as Debobrat Ghose, a reporter with the FirstPost website, received the messages, according to Scroll.
Altnews.in, a fact-checking initiative, investigated the identities of social media users who threatened Ravish Kumar, a senior anchor and editor with the NDTV network, on WhatsApp. It found that the user accounts are followed by Prime Minister Narendra Modi on Twitter. In an open letter to Prime Minister Modi published on The Wire website, Kumar wrote that he is constantly added to WhatsApp groups that hurl abuse at him. He said he is "really very frightened. Mr. Prime Minister, if I read the derogatory language used in this WhatsApp group about me and few other journalists, many people will close their ears. The language used about women journalists is really shameful."
A CPJ special report in 2016, "Dangerous Pursuit," examined India's persistent lack of investigation and prosecution in journalist murders.