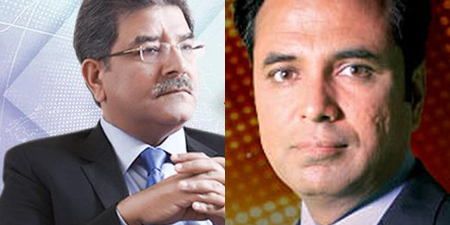 JournalismPakistan.com July 06, 2017


ISLAMABAD - Sami Abraham (pictured, left) and Syed Talat Hussain (right) are the latest additions to the Twitter fight club.
In his program The Reporters on ARY News, Sami claimed Talat wants to be appointed as Pakistan's envoy to the United States.
Referring to Talat's overt support to the ruling Pakistan Muslim League-Nawaz (PML-N), Sami said Talat even called some employees of Pakistan embassy in the US telling them he was coming there as envoy.
Sami appeared to hint that Maryam Nawaz had offered ambassadorship to Talat who host the program Naya Pakistan on Geo.
Talat first tweeted denying "rumors spread by known liars that I am offered to become ambassador. Brainless chatter parading as 'info'."
The clip of Sami talking about Talat's desire to be the envoy is interspersed by a child's laughter.
Commenting on this, Talat tweeted: "Ugly lies. Pure fiction. Totally hilarious Charlie's Angels! I think I know whose production it is, but that's for later!"
On the other hand, a tweet by Abbas Nasir, former editor of Dawn, set tongues wagging. He mused: "There is no greater a painful sight than a 'journalist-anchor star' who has completely succumbed to narcissism and abandoned all humility."
In response, people started rolling out names, though Abbas did not name anybody even when asked by Mubashir Zaidi and Mehr Bokhari. Some guessed he was referring to Dr Shahid Masood, Sami, or Chaudhry Ghulam Hussain while others thought he was referring to Talat, Kamran Khan, Hamid Mir etc.
Abbas's tweeting answer was: "Whoever fits the description."