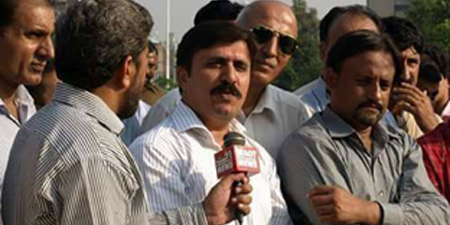 JournalismPakistan.com November 27, 2017


ISLAMABAD - The Rawalpindi-Islamabad Union of Journalists (RIUJ) has urged the government to withdraw Section 5 of the Pakistan Electronic Media Regulatory Authority (PEMRA) Act, under which it took private news channels off-air on Nov 25.
In a statement, RIUJ President Mubarak Zeb Khan (pictured) said that Section 5 was not only a draconian law, but its very existence as a tool for curtailing media freedom was similar to the usage of the erstwhile Article 58(2B), which was used to topple elected governments.
Khan said that repealing this section was essential for ensuring freedom of press and freedom of speech in the country.
He said a protest camp was set up in front of the National Press Club to sensitize journalists, parliamentarians and civil society about the impact of this law, which if not withdrawn, would become an unholy precedent for future governments to use against the media.
Under the previous PPP government, cellular services were terminated under the guise of security concerns. The RIUJ president said it had now become standard practice and an easy way to block mobile services in any city of the country, depriving citizens of their constitutional right to information.
The RIUJ appeals to the federal government to ensure the fundamental rights of freedom of the press, and freedom of speech and the right to information, as guaranteed under the Constitution of Pakistan. "We don't want the present democratic government to set another draconian precedent for future governments," he said.
The RIUJ appeals to the government to repeal this clause from the PEMRA act to ensure that no curbs can ever be placed on the freedom of the press and freedom of speech in the country.
The union also urged the electronic media to abide by the code of conduct, which prohibits live coverage of security operations.