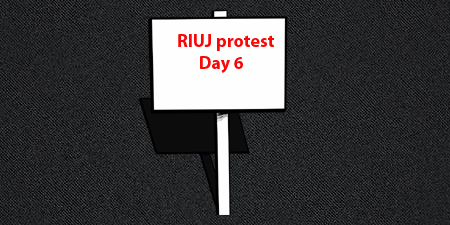 JournalismPakistan.com December 02, 2017


ISLAMABAD - The Rawalpindi-Islamabad Union of Journalists (RIUJ) in an extraordinary meeting Saturday passed a resolution condemning the 30-hour blackout of the electronic media by regulator PEMRA on November 25 and 26.
The union said PEMRA had acted at the behest of the government and condemned government inaction in failing to implement laws passed by the Parliament regarding the media institutions.
The meeting demanded of the government to immediately repeal Section 5 of the PEMRA Ordinance that was used to blackout the entire electronic media and to amend and remove all controversial clauses in the PEMRA Act.
The RIUJ demanded that a law for setting up service structure for electronic media be passed by the Parliament which should be named as Electronic Media Conditions of Service Act on the pattern of Newspapers Employees (Condition of Service) Act.
The union also condemned the government for failing to set up the 8th Wage Board for newspapers employees and called upon the superior judiciary to take cognizance of government's failure in fulfilling its legal obligation.
The meeting expressed grave concern over increasing intolerance prevailing in the country and especially the role of state institutions in fanning such sentiments and supporting extremist elements.
The house was also concerned over the inaction of the government in protecting the lives of media persons in Balochistan and FATA. "It is also a cause of concern that no newspapers are being distributed in parts of Balochistan and at least more than a dozen press clubs have been forced to close down in that province," RIUJ said.
The meeting also pointed to government's inaction in protecting journalists and media workers across the country.
A RIUJ protest camp in Islamabad, demanding the repeal of Section 5 of PEMRA Act, continued Saturday for the sixth day running.