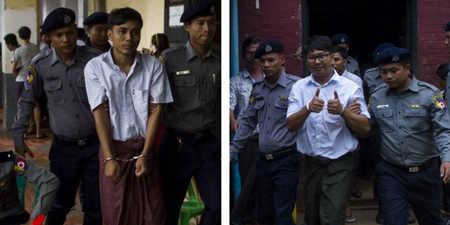 JournalismPakistan.com July 09, 2018


After almost seven months in detention, earlier Monday, a court in Myanmar charged two Reuters journalists with obtaining secret state documents.
The International Federation of Journalists (IFJ) deplored the decision by the court, a blow for press freedom in Myanmar.
According to Reuters, on July 9, Yangon district judge Ye Lwin charged reporters Wa Lone, 32, and Kyaw Soe Oo, 28, with breaching the Official Secret Act which carries a maximum penalty of 14 years in prison. Both journalists pleaded 'not guilty', which they have maintained since they were arrested on December 12, 2017.
Judge Lwin filed charges against both journalists under section 3.1 (c) of the Act, which follows on from the prosecutions allegations that Wa and Kyaw obtained the secret documents with the intention to harm national security.
Wa and Kyaw were detained in December 2017, when they were working on an investigation into the killing of 10 Rohingya Muslim men and boys in a village in western Myanmar's Rakhine State. The reporters have told relatives they were arrested almost immediately after being handed some rolled up papers at a restaurant in northern Yangon by two policemen they had not met before. In April this year, Police Captain Moe Yan Naing testified that a senior officer had ordered his subordinates to plant secret documents on Wa Lone to "trap" the reporter.
The IFJ said: "Wa Lone and Kyaw Soe Oo are victims of an entrapment scam by police.
The Myanmar government has not only failed to protect Wa Lone and Kyaw Soe Oo for investigating human rights abuses, but has politically and cynically used the country's justice system to punish them and send a warning to other reporters that press freedom comes with restrictions and severe punishment. The NLD led government has demonstrated it will not protect journalists for doing their job by investigating crimes against humanity."
The IFJ demands the immediate release of Wa Lone and Kyaw Soe Oo and for the charges against them to be withdrawn. – IFJ media release