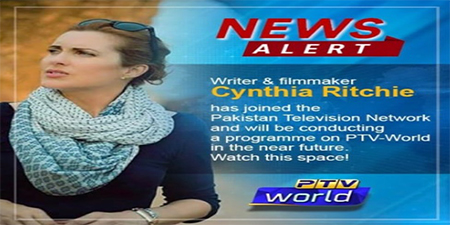 JournalismPakistan.com August 31, 2021


ISLAMABAD—State broadcaster, Pakistan Television (PTV) announced that renowned American journalist and blogger Cynthia D. Richie had joined them and will be a part of its English transmission on PTV World.
"Writer and filmmaker Cynthia D Richie has joined the Pakistan television Network and will be conducting a programme on PTV-World in the near future. Watch this space for upcoming news!" tweeted by the PTV official handler.
Cynthia also confirmed that she had joined PTV, stating in a tweet that "An honour for me. Looking forward to exciting times ahead!"
The tweet was, however, deleted by PTV shortly, without mentioning any reason.
While several internet users congratulated the US journalist on her new job, many people were interested in why the PTV withdrew the announcement.