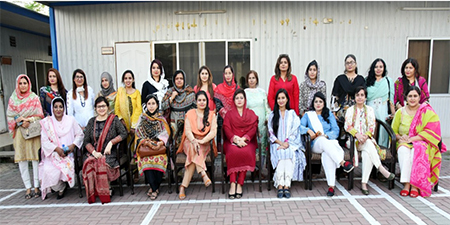 JournalismPakistan.com September 09, 2021


ISLAMABAD— Kanwal Shauzab, Parliamentary Secretary for the Ministry of Planning and Central leader of Pakistan Tehreek-e-Insaf (PTI), has urged the media house owners to create a positive and conducive working environment for the women journalists in their organizations.
She addressed a function organized by the Women Journalists Association of Pakistan (WJAP) at the National Press Club in Islamabad.
Talking to eminent women journalists, she said that all the demands of women journalists, including their reservations on Pakistan Media Development Authority (PDMA) and issuance of health cards to journalists, are PTI's priorities.
Kanwal said that the establishment of PMDA is also an effort to address journalists' concerns. She said that media owners should ensure implementation of the policy regarding maternity leave and setting up of daycare centers in their organizations.
Fauzia Kulsoom Rana, Convener WJAP, demanded that health cards be issued to women journalists without any discrimination. She said that they should also be allotted plots in the Housing Foundation under the 50 percent quota.
Renowned news reader Ishrat Fatima said that keeping in view the constructive role of women in society, the government should allow them to participate in the decision-making process.
Founding member of WJAP Myra Imran, demanded that gender audits must be conducted in media houses. She said that the issuance of licenses to media houses should be made conditional on the gender audit.
The event was specially organized to felicitate the newly elected chairperson of the walkout committee of the Parliamentary Reporters Association Nayyar Ali and executive members Ayesha Naz and Saba Bajir.
The working journalists also apprised Kanwal about the problems faced by them in media.
Prominent women journalists Ishrat Fatima, Myra Imran, Nayyar Ali, Ayesha Naz, Saba Bajir, Shazia Nayyar, Imrana Komal, Afshan Qureshi, Anila Mahmood, Nabila Hafeez, Asma Shaikh, Hana Durrani, Asma Shaukat, Qaratul Ain Haider, Mahesh Fakhr, Sadaf Afzal, Anila Bashir, Sedrah Khan, Farah Naz, Sabahat Khan, Sobia Musharraf, and others attended the event.