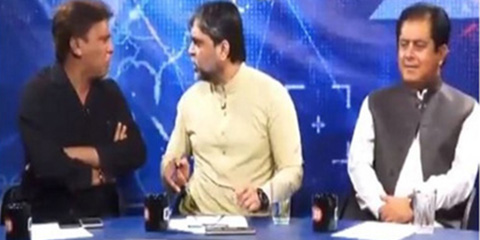 JournalismPakistan.com June 24, 2019


ISLAMABAD — Masroor Ali Sial, a senior leader of Pakistan Tehreek-e-Insaaf (PTI), physically attacked journalist and president of Karachi Press Club, Imtiaz Khan Faran, during a talk show on Monday night.
The video of the incident was shared widely on social media.
In the video, both Sial and Faran are seen engaging in a heated debate on News Line with Aftan Mugheri show before the PTI leader from Karachi stands up and pushes the journalist to the floor and starts punching him.
The two were later separated by other guests on the show and the crew on the set.
PTI drew criticism over the incident.
Freelance journalist Naila Inayat took to Twitter saying, "Is this Naya Pakistan? PTI's Masroor Siyal attacks president Karachi press club Imtiaz Khan on live news show." — Agencies