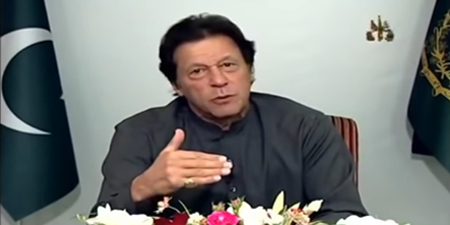 JournalismPakistan.com October 31, 2018


ISLAMABAD - Several leading media personalities appreciated and backed Prime Minister Imran Khan's address to the nation over the protests after the Supreme Court verdict in the Aasia Bibi case.
Cyril Almeida of Dawn, who normally writes against Pakistan Tehreek-e-Insaf government, was impressed. "Wow - Impressed that Imran is taking this head on..."
Journalist and analyst Owais Tohid thought the prime minister has won hearts with his address. "PM @ImranKhanPTI you have won our hearts today... We can say for this brave act 'TUSI GREAT HO'."
DawnNews journalist Mubashir Zaidi said the address was "what Jinnah envisaged for Pakistan. It took us seventy years to reconcile with his vision and @ImranKhanPTI said it categorically".
Activist Jibran Nasir patted the prime minister on the back. "Well done Prime Minister @ImranKhanPTI. In the midst of this clamour and violence country needs a strong leadership which exhibits clarity and would not allow Writ of State to be challenged. We shoudnt concede space to bigots and those violating laws must pay for their crimes."
Columnist Ammar Ali Qureshi summed up the situation: "Great decision by judges in the morning. Great speech by PM in the evening. Short and crisp - gave the message directly to miscreants."
Journalist and presenter Nasim Zehra of 24 News also backed the prime minister. "For the protesting men a clear, brief, and firm message: don't mess with the State, don't mess with the law...don't force the State to hit back... bcos it will if u create chaos and anarchy. Excellent speech by PrimeMinister @ImranKhanPTI #AsiaBibiCase".
Nadeem Farooq Paracha, a Dawn columnist thought the prime minister has given "a clear message...Short and sharp. No apologetics. Unconcealed anger towards those inciting violence against judiciary and military."
Khurram Hussain said: "Imran Khan just laid down the law to these mullahs!! Don't pick with the state he says, or else! Three cheers!!"
But travel blogger Salman Rashid was not impressed. "Heh heh heh. Rhetoric, Khurram. Rhetoric. In plain speak hot foul-smelling wind."
Matiullah Jan decided to be sarcastic. In an Urdu tweet, he was thankful that the PTI is not in the opposition otherwise "homes of the political opponents would have been ransacked." Through tweets, Mati also tauntingly asked Minister for Railways, Sheikh Rashid Ahmed, and Minister of State for Parliamentary Affairs, Ali Muhammad Khan for comments on the Supreme Court verdict.
Geo News journalist Syed Talat Hussain was amazed that the prime minister decided to talk about allegations against the army chief and the supreme court chief justice, which the mainstream media did not report. "Amazing! PM Imran Khan has chosen to tell the whole nation what the national media has been leaving out of its coverage throughout the day— protestors slogans against the Army Chief and the Chief Justice!"
Ansar Abbasi, Editor Investigations of The News, however, asked the federal government to file an appeal against the verdict of the supreme court.