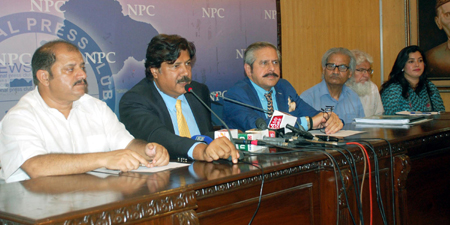 JournalismPakistan.com September 11, 2017


ISLAMABAD – Prime Minister Shahid Khaqan Abbasi and Information Minister Maryam Aurangzeb have ordered an inquiry against officials who dispatched the controversial Pakistan Print Media Regulatory Authority (PPMRA) Ordinance to the Press Council of Pakistan.
The Pakistan Federal Union of Journalists, All Pakistan Newspapers Society (APNS) and Council of Pakistan Newspaper Editors (CPNE) made efforts in this regard, according to a PFUJ press release issued Monday.
The three bodies announced that any repressive law for the print media was unacceptable and they would collectively do everything possible to fight it.
The representatives of PFUJ, APNS, and CPNE made this clear at a press conference at the National Press Club, Islamabad.
The presser was held following a meeting of the Press Council of Pakistan that discussed the proposed law. All three bodies rejected it.
The PFUJ release said that Mujeeb-ur-Rehman Shami representing the APNS met the prime minister and discussed the matter with him.
The prime minister reportedly told the APNS representative that he was not aware of any such law being introduced. He said that the PML-N government could not even think of introducing any law that could affect press freedom.
PFUJ President Afzal Butt met the Information Minister Maryam Aurangzeb regarding the controversial law. According to the press release, the minister said she was unaware of this ordinance and she had neither seen its draft nor anyone had sought permission from her in this regard.
The release said the government had constituted an inquiry committee to probe the matter. The officials involved in sending the draft to the Pakistan Press Council have been made OSDs, it said.