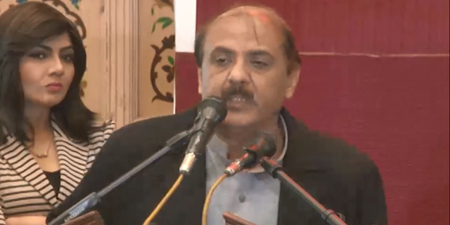 JournalismPakistan.com January 06, 2019


LAHORE – Arshad Ansari (pictured), President of Lahore Press Club, has called on the government to seriously try and resolve the problems of the media industry by taking all stakeholders on board.
He said this at a book launch ceremony at Aiwan-i-Iqbal, also attended by Federal Information Minister Fawad Chaudhry.
Ansari said thousands of journalist were rendered jobless because of the closure of several newspapers and television channels. "If the government did not pay attention to resolving these issues, journalists from all over the country would have no option but to come out on to the roads to protest."
Addressing the minister, Ansari pointed out that unfortunately journalists and media workers consider the ruling government as their enemy. "The federal minister should step ahead and try and erase this impression."
He also said that the media owners should stop laying-off staff on the pretext of financial crunch. Those workers who had helped earn them big profits through hard work must not be left jobless.
He made it clear he would continue to fight for the rights of the media workers even if this called for staging a sit-in outside the Parliament House in Islamabad or blocking of Lahore's Charing Cross.
Meanwhile, minister Fawad Chaudhry admitted there were some problems but assured the gathering he would stand by the media workers. He agreed that journalists were the victims in all of this.
He said he could not reveal details of some issues openly but hinted much would be known about this "very complicated matter" in the days ahead.
Chaudhry told the gathering the government was bringing about improvements in various areas through which journalists would benefit.
He stated that the first meeting of the Wage Board this week was one such area that would go on to benefit the workers.
"We have also come up with a new advertising policy in which we have introduced improvements and changes. We are minimizing the role of advertising agencies, and we would deal directly with the organizations. In this manner, we will tell the media houses that payments to them would be linked to the payment of staff salaries."