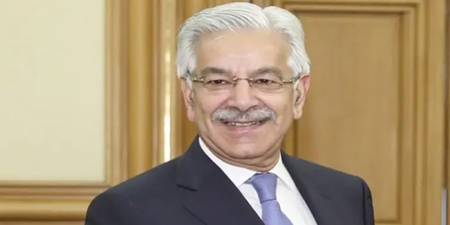 JournalismPakistan.com July 07, 2020


ISLAMABAD—Pakistan Muslim League-Nawaz (PML-N) leader Khawaja Asif has contradicted a story by Ansar Abbassi claiming a federal minister has contacted the main opposition party for collaborating on a no-trust against Prime Minister Imran Khan.
In a tweet in Urdu, Khawaja Asif, who has served as foreign and defense minister during the last PML-N government, said nobody contacted him for taking the message of the federal minister to the party chief, Nawaz Sharif, in London. He added that if Abbasi had taken the trouble of contacting him, he would not have to issue a contradiction.
The news by Abbasi in Jang newspaper claimed that if a no-trust is brought against the prime minister, a number of Pakistan Tehreek-e-Insaf MNAs would back it. This message, according to the news, has been conveyed to the leader of the opposition in the National Assembly Shahbaz Shairf, former Prime Minister Nawaz Sharif and Khawaja Asif. However, this offer has not received any response.
Trying to clarify his position, Abbasi tweeted to say that he never claimed that the PTI minister contacted Khawaja Asif. He, however, added that only after the person contacted in the PML-N confirmed the offer, he filed the story.
The strength of the government of PTI in the National Assembly suffered a blow after Akhter Mengal's Balochistan National Party (BNP) left the ruling coalition last month.