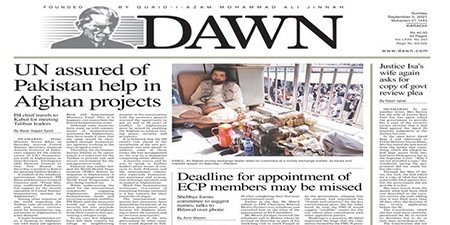 JournalismPakistan.com September 05, 2021


ISLAMABAD—The Pakistan Federal Union of Journalists (PFUJ) has expressed its grave concern and indignation over the management of Dawn Group of Newspapers to merge allowances of the employees into their salaries while implementing the much-delayed and much-awaited Eighth Wage Board Award.
This decision has made the Wage Board Award ineffective for all practical purposes. Instead of getting a raise, the employees are now getting less than what they had been receiving before implementing the Award after massive pay cuts some two years back.
In a statement, PFUJ President Shahzada Zulfiqar and Secretary-General Nasir Zaidi said that Dawn Group had traditionally been considered a pro-employee organization. However, this time it has regrettably failed to provide relief to its employees, including journalists and media workers.
The PFUJ demanded immediate separation of all the allowances from the salary and withdrawal of salary cut imposed during the financial crisis some two years ago. This anti-employee action of the management has created distress amongst the employees of the Dawn Media Group, as they are already under severe financial crisis and facing a high level of insecurity.
The PFUJ leadership urged the management of all the media houses, especially the Dawn Group, to respect workers' rights, implement the recommendations of the 8th Wage Award in letter and spirit and immediately restore pay cuts without any further delay.