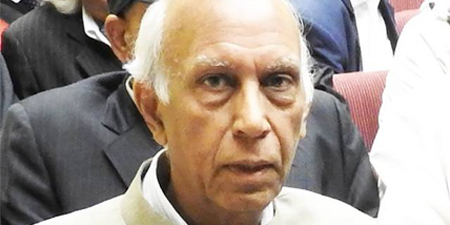 JournalismPakistan.com September 01, 2017


ISLAMABAD - Prof. Dr. Ishtiaq Ahmed, Professor Emeritus, Stockholm University has accused an affiliate of the BBC - Voltage TV Productions - of exploiting his expertise on the partition.
He was consulted extensively between April 26 and July 2017. He asserts that because of his advice the script of the film - Seven Days in Summer: Countdown to Partition - which BBC 2 aired on August 15, 2017, focuses mainly on the events of the Punjab.
"All along I was told that my contribution was absolutely outstanding and that they had learned a lot from me. When I asked them whether I would be invited to take part in the film as a commentator they told me that a decision to include commentators was not yet taken but that they would make a very strong case for my participation," Dr. Ahmed told JournalismPakistan.com.
He said that at the end of July they informed him that they were unable to convince their superiors to invite him to London and implored him to accept £500 as a token of gratitude.
"I did not help them for the money and in any case what I did for them was far greater in value than £500. They added insult to injury by duping me to believe that the payment was only a token recognition of my work and that they will ensure it is properly mentioned in the titles. Also, I was misled into believing that nobody would be commenting in the film, but there were several," Dr. Ahmed said.
"I had no reason to doubt their sincerity and I have a feeling most of them were saying this in good faith. My feeling is that my participation was overruled because what I had to say about the partition was not something they wanted to tell the British people and others in the big wide world."
Dr. Ahmed is also a visiting Professor of Political Science at the Government College University, Lahore. His book, The Punjab Bloodied, Partitioned and Cleansed, won the Best Non-Fiction Book Award in 2013 at the Karachi Literature Festival and at the UBL-Jhang Groups' Lahore Literary Festival in Lahore. He also won the Best Book on Punjab Award at the Vaisakhi Mela, Lahore in 2016.
Dr. Ahmed said he was questioned for hours on different aspects of what transpired in British India in 1947. "Not only was I not invited but my actual contribution to the program was not properly acknowledged in the titles."
He said that he and his family in Stockholm and his friends in the UK and elsewhere watched it. "The titles moved so fast that almost nobody could see that my name was mentioned but merely as a contributor of oral histories. That was a gross misrepresentation because my help and advice were sought on the whole script."
In an article titled 'Beware of Predators' published in the Daily Times on Friday, Dr. Ahmed describes his ordeal as shocking proof of how corporate capitalism ruthlessly exploits the knowledge and expertise of third world scholars.
He writes: "I should have realized that the relationship between the colonized and the colonizer can never be an honest and an equal one. I will explore the theme in depth in my forthcoming book. But suffice it to say here that for those financing the program on British India's partition I was merely a native used for extraction of information."
For several months through email exchanges, telephone calls, and Skype conversations he helped the crew of the film with the cultural context and the background of the people from his work whose oral histories have been included in the film.
Dr. Ahmed has demanded that a tribunal be set up to examine the complete exchange of emails between him and Voltage TV Productions which he can submit to the tribunal.
"Scholars in Pakistan, India and elsewhere should learn from my experience. It is our duty to share our knowledge with the public but that does not mean that we should be exploited by unscrupulous media actors," Dr. Ahmed said.
Photo courtesy: wikimedia.org