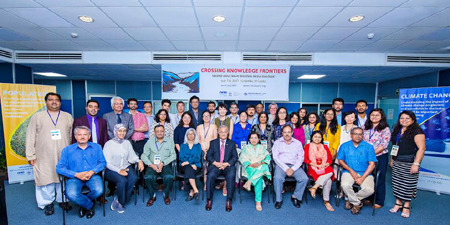 JournalismPakistan.com July 09, 2017


COLOMBO - The two-day Indus Basin Regional Media Dialogue concluded in Colombo, Sri Lanka on July 8 with a resolve among participating journalists to highlight the water issues related to the Indus Basin and the changes it has gone through over time.
The participants stressed upon the need to build pressure on the respective governments through consistent media coverage of these issues so that they try to address them on a priority basis.
There was also a consensus on forming partnerships with each other and working jointly on trans-boundary water issues. Instead of going for blame game, the focus of the journalists was on holding constructive and result-oriented debates on the outstanding issues.
Media personnel from Pakistan, India, China and Afghanistan descended upon the port city to take stock of the situation that exists at the moment, evaluate progress if any on outstanding water issues and work out a future roadmap and course of action.
The Indus Basin is a key resource shared by Afghanistan, China, India, and Pakistan. Some 300 million people live within the basin and rely on its resource base – and many more beyond the basin benefit from the harnessing of basin resources.
Over the years, rapid population growth and economic development have placed major demands on basin resources and, coupled with uncertain climate futures, left a challenging mix affecting all current and future users of this unique river system.
There is a realization that mass media is key channel for knowledge and information diffusion between the scientific community and the wider public, including public officials. It is a fact it plays a critical role in facilitating the public understanding of the science behind many a changes taking place in their environment, including its broader significance for people and societies.
Recognizing that understanding technical subjects like water and broader environment-related issues requires training and support, the International Water Management Institute (IWMI) along with partners such as The Third Pole (TTP) designed this dialogue for journalists to help understand the science behind underlying trends and structural changes taking place in the Indus Basin.
Water sector experts from these countries joined the dialogue and added to the knowledge of these journalists. A one-day field visit to agri farms that had adopted innovative and efficient irrigation techniques was also part of the activity.
Zofeen Ebrahim, Shabina Faraz, Shahzada Irfan Ahmed, Jehanzaib Haque and Hassaan Khan were the journalists who represented Pakistan at the event.