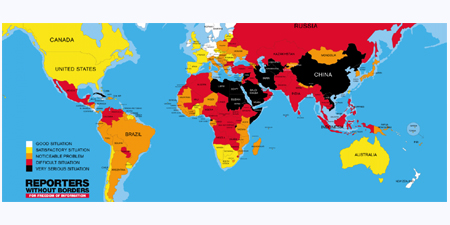 JournalismPakistan.com November 04, 2017


The Reporters Without Borders' 2017 World Press Freedom Index highlights the danger of a tipping point in the state of media freedom, especially in leading democratic countries.
Democracies began falling in the Index in preceding years and now, more than ever, nothing seems to be checking that fall, RSF said.
The watchdog placed Pakistan at 139 from last year's 147 out of 180 countries and said the Pakistani media are regarded as among the freest in Asia but are targeted by extremist groups, Islamist organizations, and the feared intelligence agencies, all of which are on RSF's list of Predators of Press Freedom.
There are fatal attacks on journalists every year in Pakistan, though the number has dropped for the past four years. The various warring groups are always ready to denounce acts of "sacrilege" by the media. Government officials, political parties, and party activists are also quick to harass, threaten, or physically attack journalists regarded as unsympathetic to their views. Inevitably, self-censorship is on the rise within news organizations. Adoption in 2016 of the Prevention of Electronic Crimes Act, under which criticism of the military, the judicial system, and Islam can lead to imprisonment, was condemned by the media.
The RSF said the Asia-Pacific region is the third worst violator overall and holds many of the worst kinds of records. Two of its countries, China (176th) and Vietnam (175th), are the world's biggest prisons for journalists and bloggers. It has some of the most dangerous countries for journalists: Pakistan, Philippines (127th) and Bangladesh (146th). It also has the biggest number of "press freedom predators" at the head of the world's worst dictatorships, including China, North Korea (180th), and Laos (170th), which are news and information black holes.
RSF said that media freedom has never been so threatened and RSF's "global indicator" has never been so high (3872). This measure of the overall level of media freedom constraints and violations worldwide has risen 14% in the span of five years. In the past year, nearly two thirds (62.2%) of the countries measured have registered a deterioration in their situation, while the number of countries where the media freedom situation was "good" or "fairly good" fell by 2.3%.
The World Press Freedom Index measures the level of media freedom in 180 countries, including the level of pluralism, media independence, and respect for the safety and freedom of journalists. The 2017 Index takes account of violations that took place between January 1 and December 31 of 2016.
The global indicator and the regional indicators are calculated based on the scores assigned to each country. The country scores are calculated from the answers to a questionnaire in 20 languages that are completed by experts throughout the world, supported by a qualitative analysis. The scores and indicators measure the level of constraints and violations, so the higher the figure, the worse the situation. Because of growing awareness of the Index, it is an extremely useful and increasingly influential advocacy tool. - Reporters Without Borders