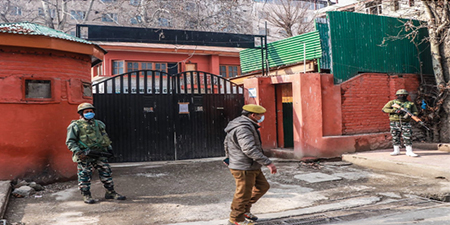 JournalismPakistan.com January 17, 2022


ISLAMABAD—Pakistan has condemned increasing harassment, illegal arrests, and registration of "fake criminal cases" against journalists and civil society activists in Indian-occupied Jammu and Kashmir (IOK).
In the context of the attack on Kashmir Press Club (KPC) Srinagar, the Foreign Office stated that "...manifestly reflects India's entrenched use of brute force and coercion to forcibly silence those raising voices against its horrendous crimes and egregious human rights violations in IIOJK".
It further urged the international community, particularly the United Nations and international human rights and humanitarian bodies, to hold India accountable for its "unabated harassment and illegal arrests" of journalists, human rights defenders, and other civil society activists in IOK.
According to Indian media, "unfamiliar" activities were seen at the Kashmir Press Club on the weekend when a few journalists accompanied by policemen reached there and claimed to be the club's "new management."
The policemen claimed to be personal security officers of one of the journalists who released a statement to the media stating that "some journalist forums" had chosen them to be the new office-bearers.
However, the claims of the interim body were rejected by a joint statement issued by around nine journalist bodies in IOK who denounced the forcible takeover of the KPC office with "open support from the administration" and termed it "a wrong and dangerous precedent."