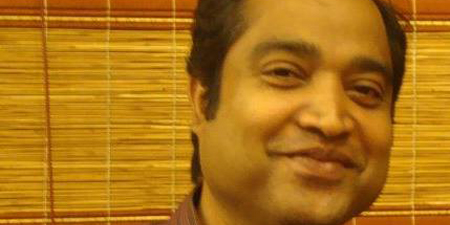 JournalismPakistan.com November 13, 2018


KARACHI - Robin Fernandez, op-ed editor of The Express Tribune passed away on Tuesday. He was 51.
Tribune.com.pk reported that he was recovering from a stroke he suffered some months ago but had another stroke Tuesday. He was taken to the hospital where he died.
The soft-spoken Robin worked in several leading news organizations during his career. He was on the launch team of The News in 1991, and also served as a senior correspondent of UCA News.
Tribune reported that he joined Dawn as a senior sub-editor in 2005 before moving to The Herald as a news editor in 2006. In 2009, he joined Business Day as a news editor.
His association with The Express Tribune began in July 2010 as an editorial coordinator. In 2012, he became the paper's foreign editor before being elevated to the position of op-ed editor in 2017.
He is survived by wife Marina Fernandez and three children.
Fahd Hussain, the paper's executive editor said on Twitter that "Robin Fernandez's sudden demise this morning is a shock for us all at @etribune. A thorough professional, Robin performed his duty as Op-ed Editor with impressive editorial depth. Soft-spoken and polite, he will be tremendously missed by all. Deepest condolences to his family."
Columnist Aisha Sarwari had this to say in tribute: "My oped editor at @etribune, Robin Fernandez passed away today. I'm bereft with grief. Never met him. Yet, the power of his kindness and gentle demeanor and professionalism transcended to a point that whenever I prayed, I prayed for him. Pakistan needed him."