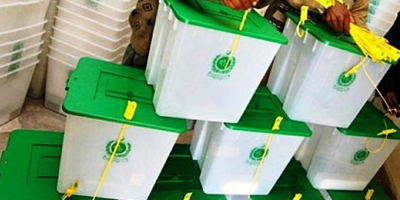 JournalismPakistan.com May 06, 2013 Fakiha Hassan Rizvi

LAHORE: For the first time in the political history of Pakistan, dictatorial fists are not in a position to muzzle the press or media outlets. However, irresponsible use of freedom will be followed by a trust deficit between 'watchful media' and its consumers.
With the elections around the corner 'voters' education' through the mediated messages of electronic and print outlets is gaining momentum. Where paid political advertisements flash frequently on the television screen, commentaries about 'what next?' are also surfacing at a swift pace. Voters are being sensitized politically and the first civilian-to-civilian transfer of power carries precedence under the umbrella of various media organizations.
Undoubtedly, mass communicated messages have a certain impact on public opinion and voting behaviors of the people. It is a positive development, like other democratic practices, emergence of the watchdog role of media would turn out to be a decisive factor in the upcoming elections. On the contrary, if the media barons and analysts adopt a nonchalant attitude, then the struggle for indoctrinating democratic values will be abortive. Contextual manipulation or misrepresentation of political parties is a violation of the guidelines framed for the fourth pillar of the state (i.e the media). As devised by the Election Commission of Pakistan (ECP), rules should be followed by mass media, with 'public good' being its foremost priority.
Instead of cutting excerpts from the old speeches of politicians and joining them to depict an altogether different and misleading message, focus should be converged on electoral manifestos and election campaigns. Adducing electoral malpractices and projecting the transgressions of political parties during the election campaigns should be the primary goal of Pakistani media.
A report by the Free and Fair Election Network (FAFEN) reveals that around 89 percent of the 49 'observed' election rallies violated the rules set by the ECP. Rallies are fervently shown without any allusion towards the way they deviate from the rules and regulations. All the mainstream political parties including Pakistan Tehreek -e-Insaaf, Pakistan Muslim League Nawaz, Jamaat-e-Islami and even Jamiat-Ulema-e-Islam-F have jeered at the principles for conducting rallies, but the electronic media turned a blind eye to such violations or downplayed them.
In a country like Pakistan, where majority of the people are illiterate and depend heavily on visual communication, privately owned television channels need to be careful. The pliant or murky attitude of a relatively free media can have adverse effects on public opinion. There are a number of guidelines that conform to ethical reporting of facts and obligate each component of a particular television channel (ranging from talk shows to political advertisements) to be impartial. In line with this code, even the paid political advertisements of various political parties should get equal time, space and projection in the media. No particular party should be given the leverage of additional representation at the expense of other parties.
With a clear boundary demarcated to tap the potential of media, positively, there is no reason for broadcasting houses or other sources of information to deviate from it. On the other hand, in case of gross violation of the ethical code of conduct, the ECP has also directed to make corrections adequately, where required. The media has been granted the liberty to be critical of the policies and electioneering of political parties, but at the same time reminds it to distinguish between manipulation and constructive criticism.
It is an abysmal fact that some of the mainstream television channels are not abiding by ECP's media code of conduct. As a result, the Ethical Journalism Network (EJN), a global coalition of media professional groups and journalists, is purporting a ground-breaking monitoring program led by citizen journalists. Under this program, the performance of local journalists and media coverage of elections 2013 will be carefully scrutinized. The initiative - 'Pakvotes' - comprises a handful of trained citizen journalists. It is relying on around 40 field monitors armed with smart phones in various parts of the country. The citizen journalists will report electoral malpractices, especially in conflict-ridden regions like Balochistan.
It is heartening that the incompetence of mainstream media outlets has rendered this 'observatory role' to be transferable. Citizen journalists, who usually work voluntarily and are often unpaid workers, will now be making a worthwhile effort during the upcoming elections. Apart from keeping an eye on the menaces of rigging and bribed voting, they'll also keep a check on media's performance. Reports that will be overlooked by the national media, won't go unattended this time as Pakvotes aims to project them to social networks like Twitter and Facebook.
Although their strength is negligible, in the future, their performance can help to frame a well-planned monitoring map for electoral campaigns after 2013. In addition to this, campaigns of this nature provide a moment of honest reflection for the country's media organizations. It would be a despondent embarrassment if the media fails to deliver to the masses and does not guide them in a reasonable and responsible manner for 'Elections 2013'. 'Media spin' will tarnish credibility of journalists and broadcasters, something that isn't a good omen for any democratic transition.

(The writer is a BS Mass Communication student at the University of the Punjab, Lahore and blogs at www.fakihahassanrizvi.wordpress.com. She is also
Editor-in-Chief - The Voice of Youth - an online youth blog).