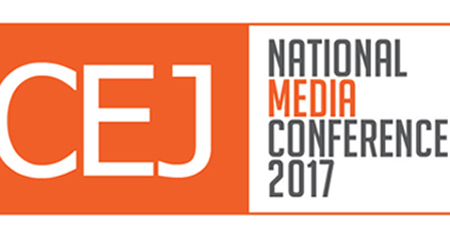 JournalismPakistan.com April 14, 2017 Published 8 days ago


KARACHI - The Center of Excellence in Journalism (CEJ) is to hold the inaugural National Media Conference on April 20-21 at the Institute of Business Administration (IBA) City Campus in Karachi.
According to a CEJ media release, the conference will run daily from 8:30 am until 6:30 pm, with an opening night dinner on April 19 at the Avari Tower.
CEJ is accepting applications to attend the conference, the release said. However, due to space limitations, there are limited seats available.
The conference begins with an address by seasoned journalist Muhammad Ziauddin on April 20 and culminates on April 21 with remarks by Senator Javed Jabbar.
Also featured is a keynote address by Ms. Hannah Bloch, former CNN Islamabad bureau chief and currently the digital editor of international news at National Public Radio.
The conference will feature sessions on topics related to digital media and journalist safety, including training on smartphone journalism, digital rights, data journalism, and both physical and digital safety for journalists, which are only open to accepted conference attendees.
Interspersed between the training sessions will be panel discussions and breakout sessions. Panel topics include "The Future of Digital News", "Women in the Media", and "Reporting in Conflict Areas". These panel discussions are open to the media and academic community.
To help facilitate accepted participants from outside of Karachi, CEJ will offer assistance for accommodation and transportation.
In order to apply for space at the conference click here.