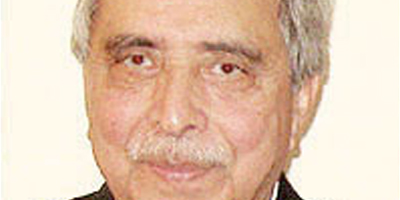 JournalismPakistan.com March 16, 2014
WASHINGTON: Pakistani intellectuals and writers paid tribute to Khalid Hasan as they highlighted the late author's extraordinary work and contribution to journalism.
Friends and colleagues of Hasan, who in his long career also worked as Washington correspondent for the Associated Press of Pakistan from 2000 to 2002, gathered under the banner of Washington Policy Analysis Group to commemorate his fifth death anniversary.
Khalid Hasan passed away in Virginia on February 5, 2009, having penned several books and writings on a myriad of subjects. He also translated a series of books including short stories of acclaimed Urdu writer Saadat Hasan Manto.
A prolific writer, Hasan displayed a keen sense of observation and artistic mastery of English language in his over 40 published works on politics, arts and literature.
Seasoned journalists Akmal Aleemi and Dr. Manzur Ejaz shed light on personality, last days, and works of Hasan, whose edifice of work is known for absorbing delineation of important events in the lives of some major Pakistani figures including Faiz Ahmed Faiz, Noor Jehan and Hamid Jalal.
Former senator Dr. Muhammad Akbar Khwaja, Dr. Javed Manzoor and economist Ali Nawaz Memon praised the writer's profound insight into political developments and his objective analytical skills.
Journalists recalled the importance Khalid Hasan's work, whose high-quality columns 'filled with a mix of wit, humor, satire, and candid realism, and written in a seamless flow of English language' remained essential diet for generations of readers.
The session was attended by Raoof Hasan, an expert and columnist for Pakistan Today newspaper, Anwar Iqbal, correspondent for Dawn, Wajid Ali Syed, correspondent for Geo TV, and journalists including Ahmed Shakeel Mian, Jamal Baloch, Kausar Javed, Asim Siddiqui, Imran Shahid and Azeem Ahmed Khan.
Khalid Hasan was born in Srinagar, Kashmir in 1935 and lived with his family in Sialkot, Punjab, where he graduated from Murray College.
He began his journalistic career with The Pakistan Times and his writings appeared in almost all leading Pakistani English language newspapers. - APP